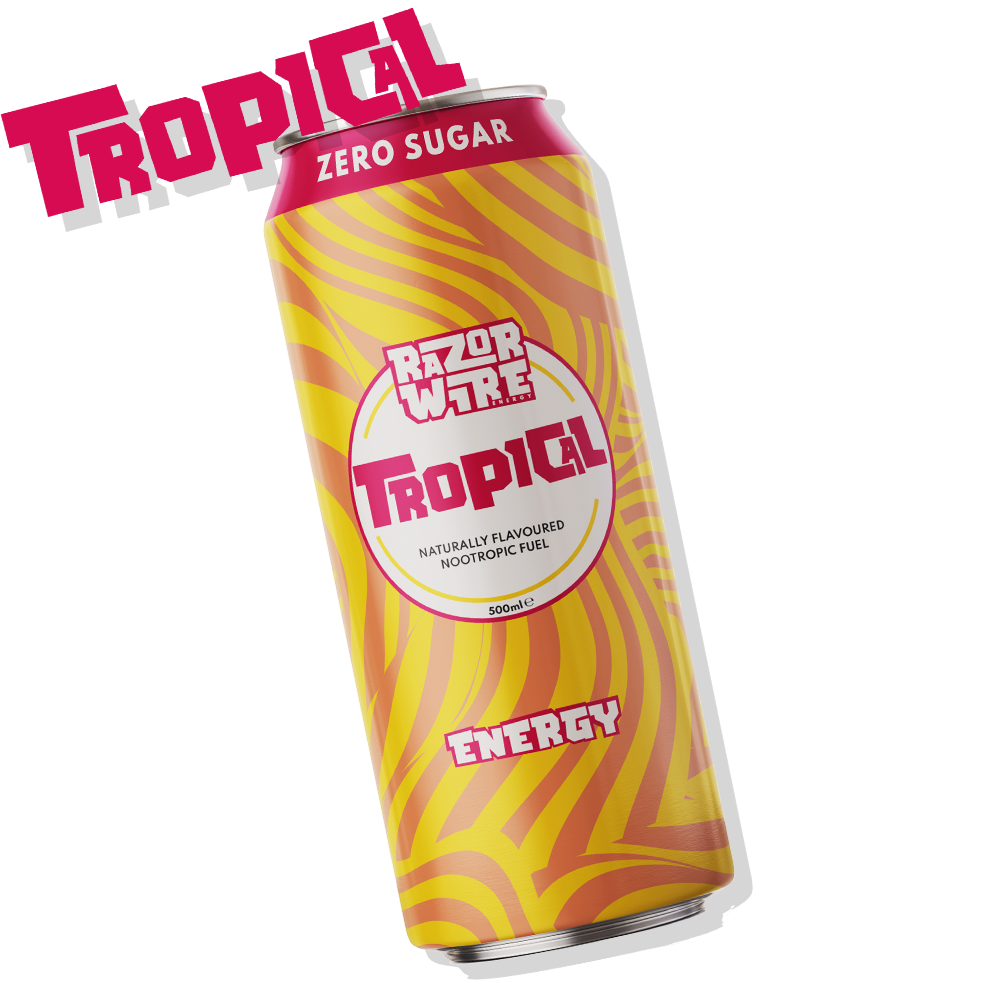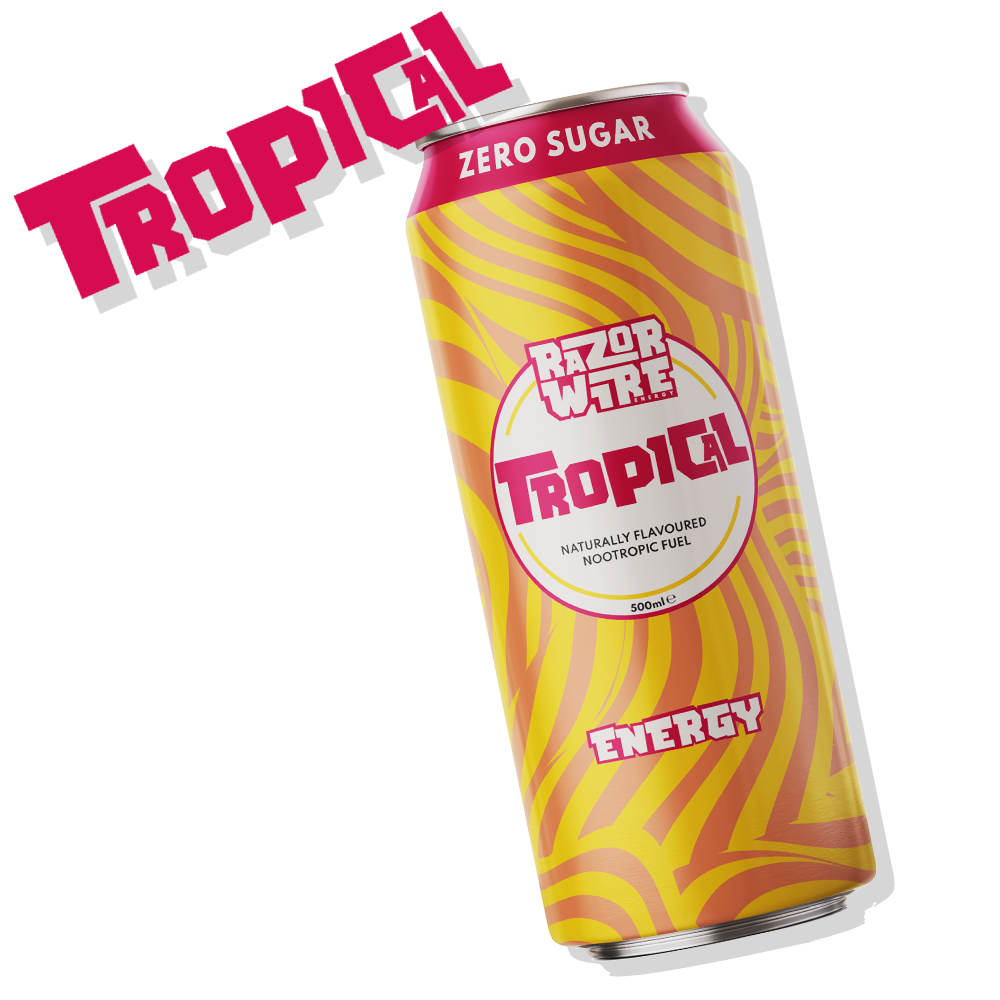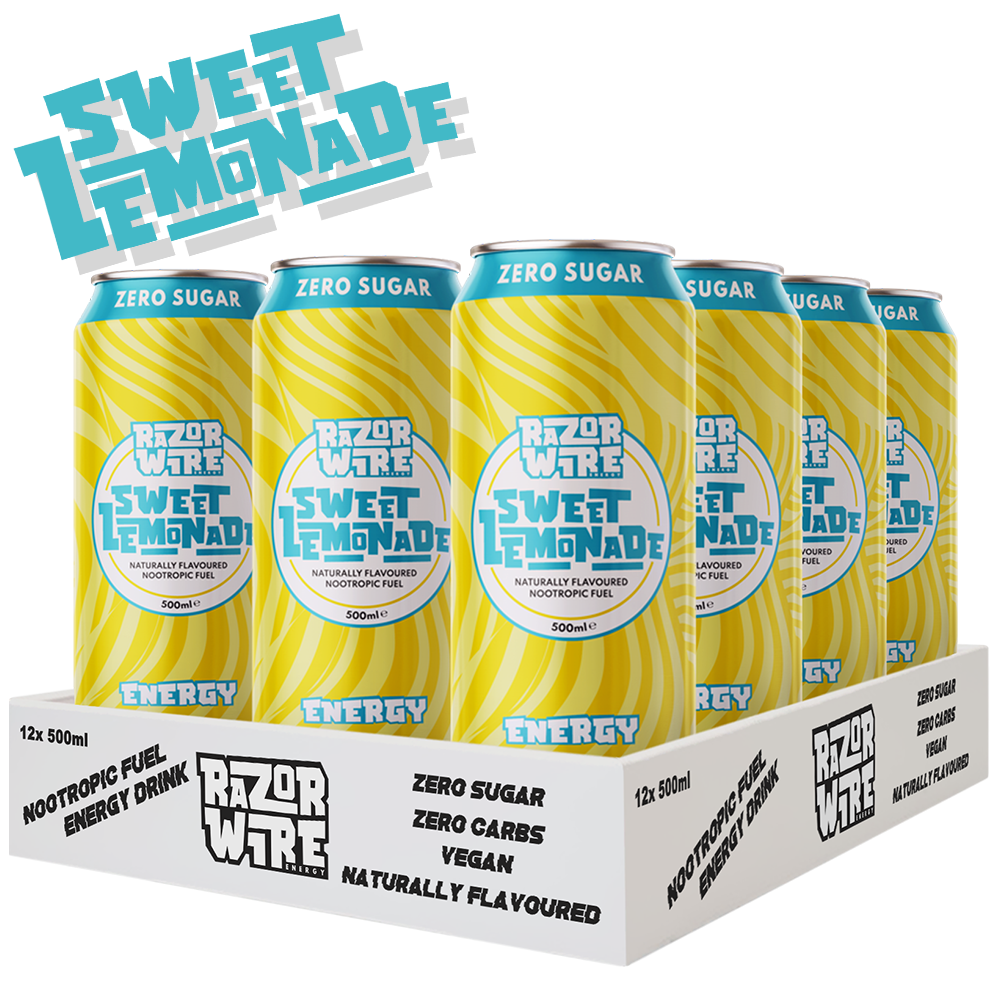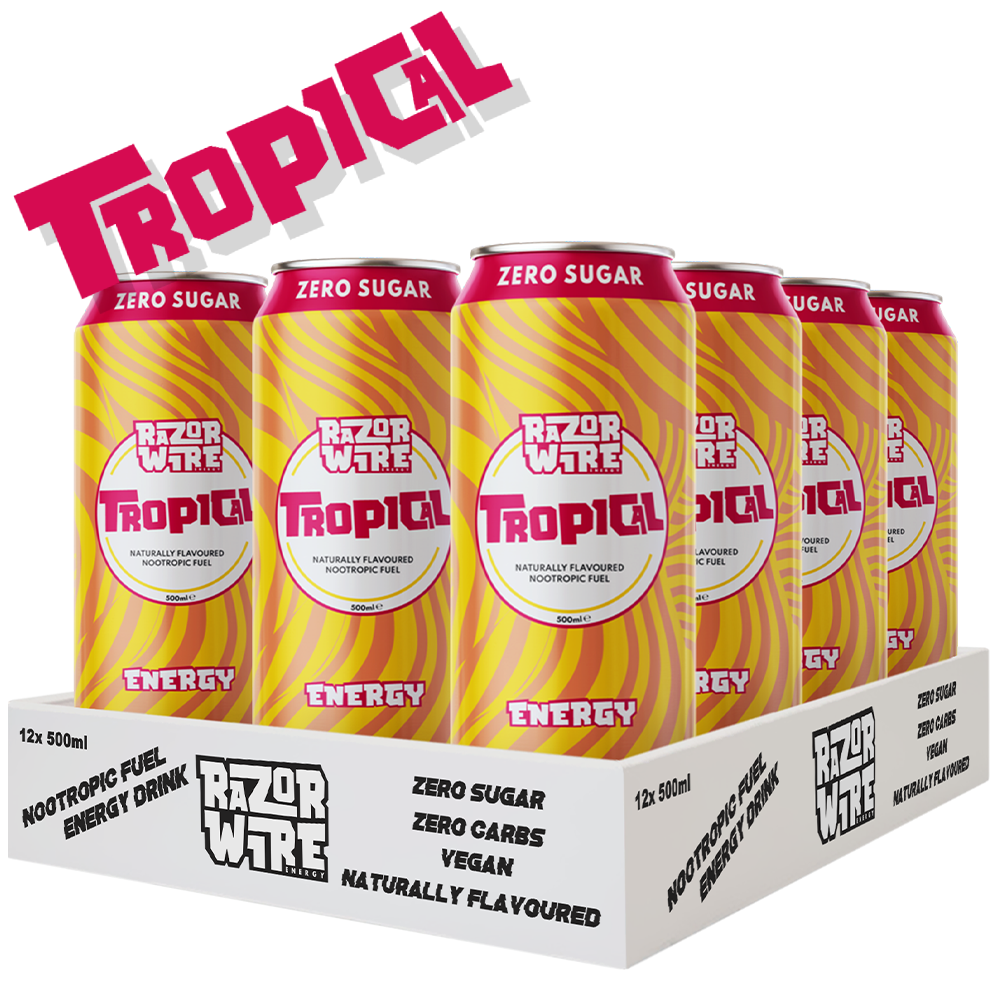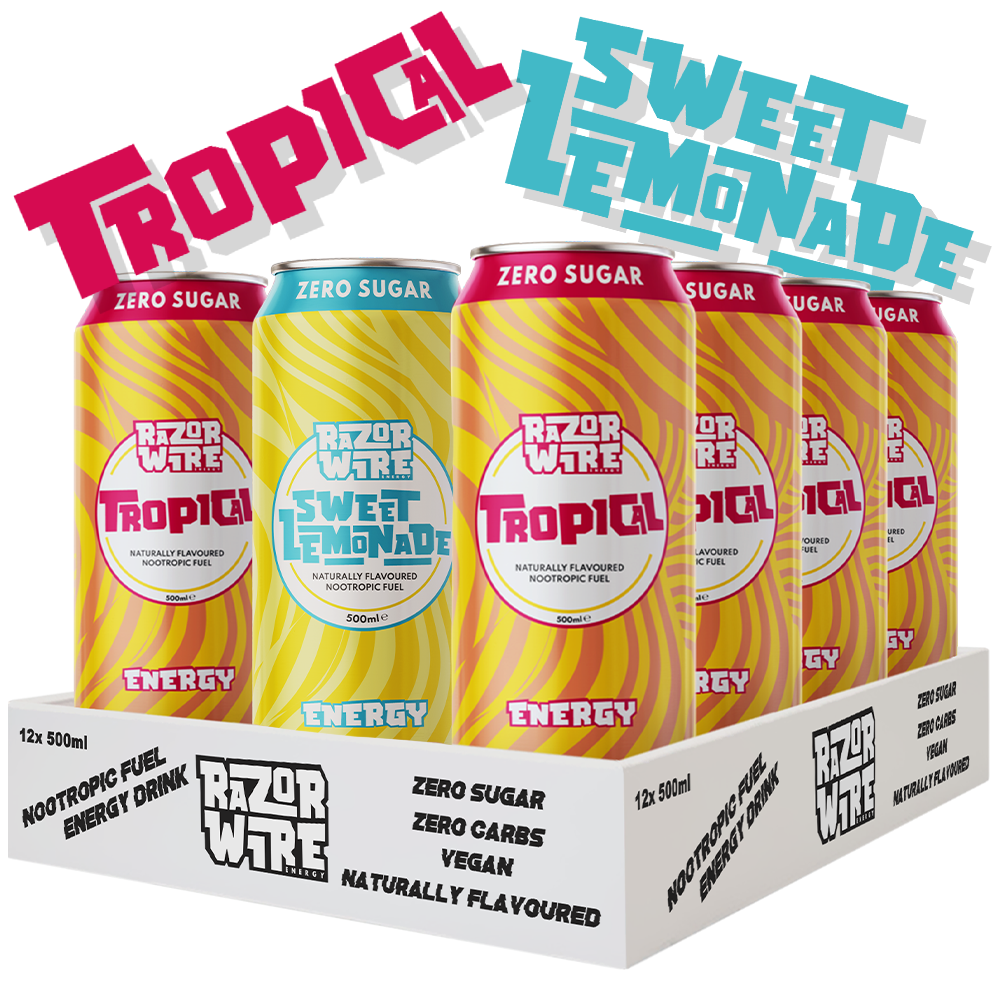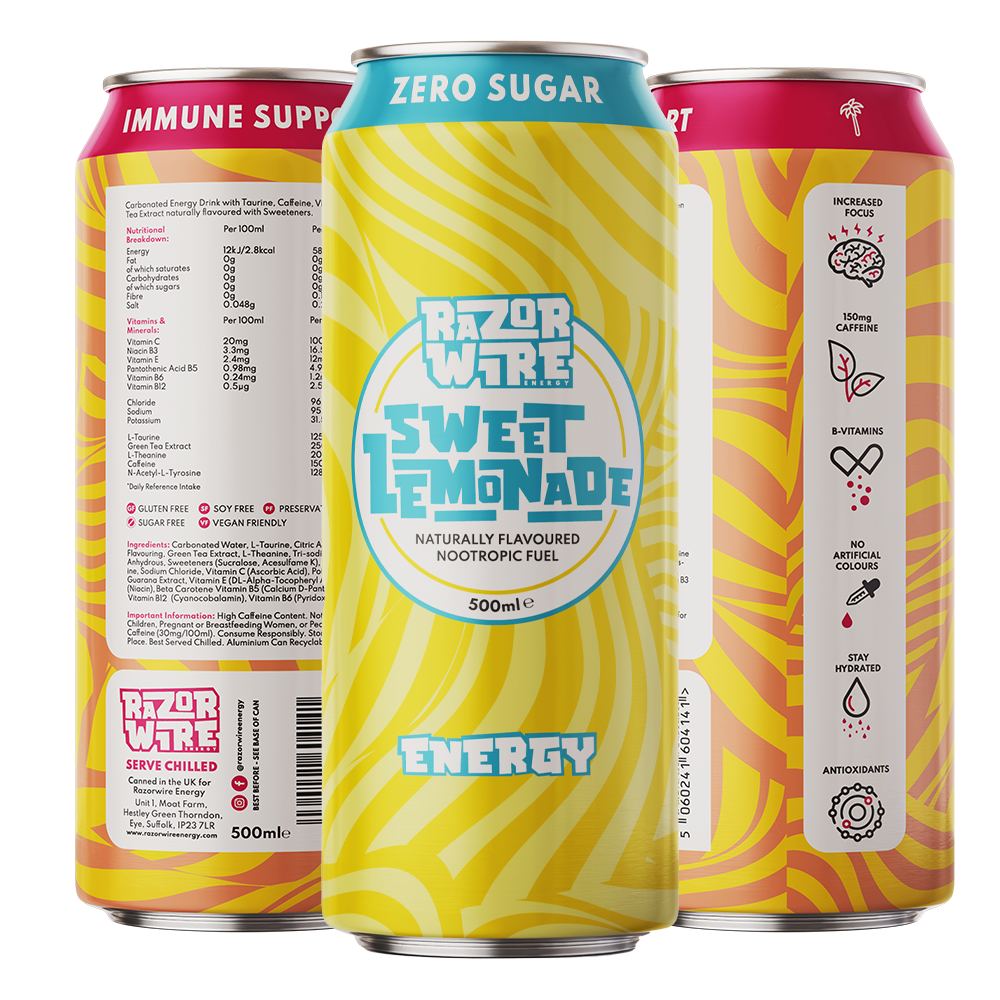 RAZORWIRE NOOTROPIC FUEL SMART ENERGY 500ml CANS
60% OFF DEAL ONLY VALID ON 12 PACK EXCLUDING 12 MIXED PACK
ZERO Carbohydrates
Lightly Carbonated to avoid bloating
Nootropic Benefits (Brain Memory)
Vegan Friendly
Drug Free
Soy Free
Gluten Free

So what's in Razorwire Energy Cans?
THREE sources of caffeine to boost and stimulate energy levels helping you stay focused and alert.
ADDED N-Acetyl L-Tyrosine this helps increase and produce key neurotransmitters like dopamine to support mood and cognitive health. We have also added L-THEANINE which have been shown in studies to increase mental focus. L-Theanine works with the caffeine to provide a sustained release of energy without the jitters. 
ADDED ELECTROLYTES With balanced electrolyte minerals that help keep the brain and body hydrated.
MULTIVITAMIN BLEND A blend of essential vitamins and minerals including Vitamin C to aid general wellbeing and maintenance of the body's immune system and B Vitamins to give energy
.
What's Razorwire Energy Nootropic Fuel?
It's an energy drink for gamers, streamers and content creators designed to increase energy, enhance reaction times and boost focus. With our energy drink you will benefit from 0 sugar, 0 fat and plenty of antioxidants to keep things healthy.
Razorwire Energy drink does pack a serious punch and that comes in the form of three sources of timed release caffeine which will sustain your energy for longer- avoiding the caffeine slam.
RWE gaming drinks are reinventing the way you game, so if you're looking to up your game and take things to the next level then this is the energy drink for you.
Light, Crisp Taste
RWE drinks are made to give a crisp fruit flavour so you can enjoy every sip.
100% FULLY TRANSPARENT LABEL
Ingredients
WARNINGS : High Caffeine Content. Not recommended for children, or pregnant or breast-feeding women, or individuals sensitive to caffeine (30mg/100ml). Consume responsibly. Recommended maximum consumption of 2 cans per day (2 servings)..
Citations:
1: L-Theanine and Caffeine. Biol Psychol
. 2008 Feb;77(2):113-22. doi: 10.1016/j.biopsycho.2007.09.008. Epub 2007 Sep 26.

2: L-Theanine Phytomedicine. 2017 Oct 15;34:26-37. doi: 10.1016/j.phymed.2017.07.008. Epub 2017 Jul 27.

3: Taurine. Mol Nutr Food Res
. 2019 Jan;63(2):e1800536. doi: 10.1002/mnfr.201800536. Epub 2018 Oct 17.

4: Green Tea. Phytomedicine
. 2017 Oct 15;34:26-37. doi: 10.1016/j.phymed.2017.07.008. Epub 2017 Jul 27

5: Vitamine C. Biochem Soc Trans
. 2018 Oct 19;46(5):1147-1159. doi: 10.1042/BST20180169. Epub 2018 Oct 8.

6: B Vitamin. Nutrients
. 2020 Jan 16;12(1):228. doi: 10.3390/nu12010228.

7: Vitamin E. Vitamin E helps maintain healthy skin and eyes, and strengthen the body's natural defence against illness and infection (the immune system). (NHS)