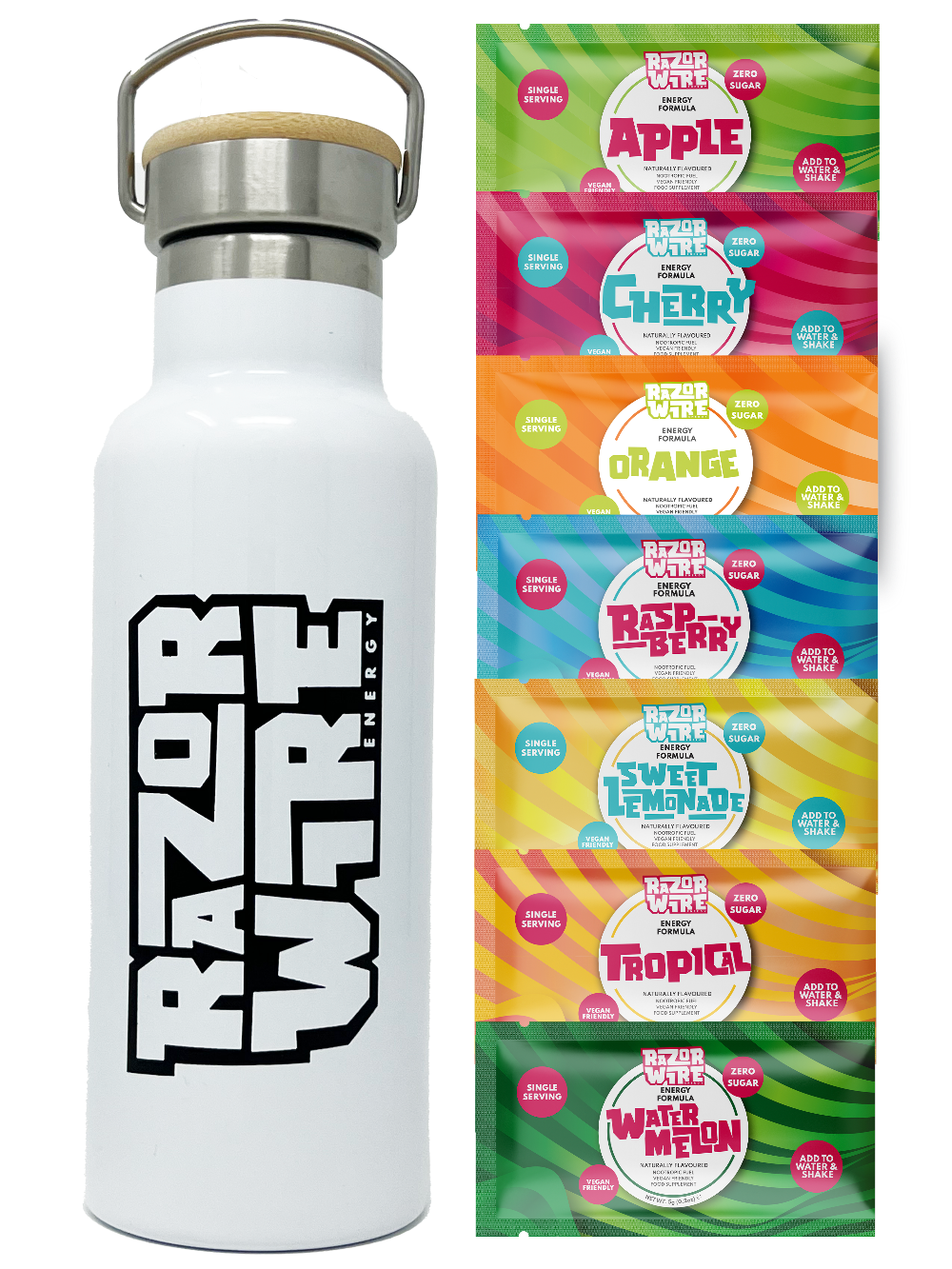 INSULATED DRINK FLASK/BOTTLE 500ml + 7 SINGLE SERVING SACHETS
Secure no-spill lid

Double walled insulation 
Durable, Reusable and environmentally friendly
Ergonomic shape 
High quality food-grade stainless steel (18/8) won't retain or transfer flavors, ensuring the pure, clean taste of Razorwire Energy
BPA Free
Dishwasher safe
This elegant ergonomically designed 500ml drink flask features double-walled vacuum insulation technology, designed to maintain your beverage temperature for longer which allows you to prepare your favourite Razorwire Energy drink in advance and keep it chilled for up to 48 hours. For those who drink Razorwire Energy hot in winter it retains heat for up to 12 hours.
The stylish bamboo topped lid is complete with carry handle making it  easy for you to accessorise with a carabiner and ready for you to attach to your belt/bag/bike keeping you hands free on the go.

With responsible drink containers in mind, our reusable stainless steel flask/bottle arrives in fully recyclable plant based bag and a 70% recycled cardboard box for added protection. 

Manufactured using premium, stainless steel BPA free, phthalates, lead or other toxin material for the safest water bottle that won't leech chemicals.

Height: 219.6mm (8.7 inches) 
Diameter: 73mm (2.9 inches) 
Weight: 300 grams 
BASED ON CHERRY FLAVOUR  

INGREDIENTS
L-Taurine, Maltodextrin, Natural Flavouring, Citric Acid, Malic Acid,
Green Tea Extract, L-Theanine, Tri-sodium Citrate, Caffeine Anhydrous, N-Acetyl-L-Tyrosine, Sodium Chloride, Vitamin C (Ascorbic Acid), Sucralose, Potassium Chloride, Pine Bark Extract, Guarana Extract, Vitamin E (DL-Alpha-Tocopheryl Acetate), Vitamin B3 (Niacin),
Vitamin B5 (Calcium D-Pantothenic Acid), Vitamin B12 (Cyanocobalamin), Vitamin B6 (Pyridoxine HCL).
Citations:
1: L-Theanine and Caffeine. Biol Psychol
. 2008 Feb;77(2):113-22. doi: 10.1016/j.biopsycho.2007.09.008. Epub 2007 Sep 26.

2: L-Theanine Phytomedicine. 2017 Oct 15;34:26-37. doi: 10.1016/j.phymed.2017.07.008. Epub 2017 Jul 27.

3: Taurine. Mol Nutr Food Res
. 2019 Jan;63(2):e1800536. doi: 10.1002/mnfr.201800536. Epub 2018 Oct 17.

4: Green Tea. Phytomedicine
. 2017 Oct 15;34:26-37. doi: 10.1016/j.phymed.2017.07.008. Epub 2017 Jul 27

5: Vitamine C. Biochem Soc Trans
. 2018 Oct 19;46(5):1147-1159. doi: 10.1042/BST20180169. Epub 2018 Oct 8.

6: B Vitamin. Nutrients
. 2020 Jan 16;12(1):228. doi: 10.3390/nu12010228.

7: Vitamin E. Vitamin E helps maintain healthy skin and eyes, and strengthen the body's natural defence against illness and infection (the immune system). (NHS)