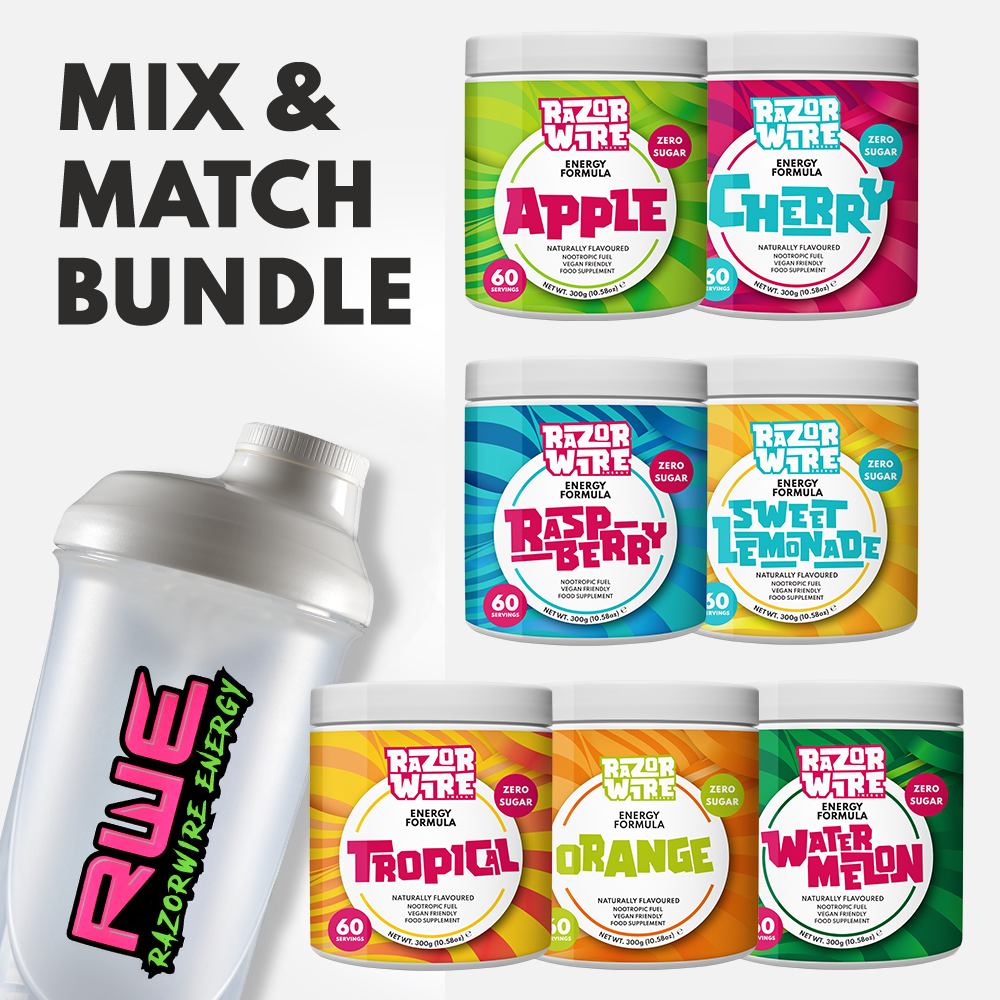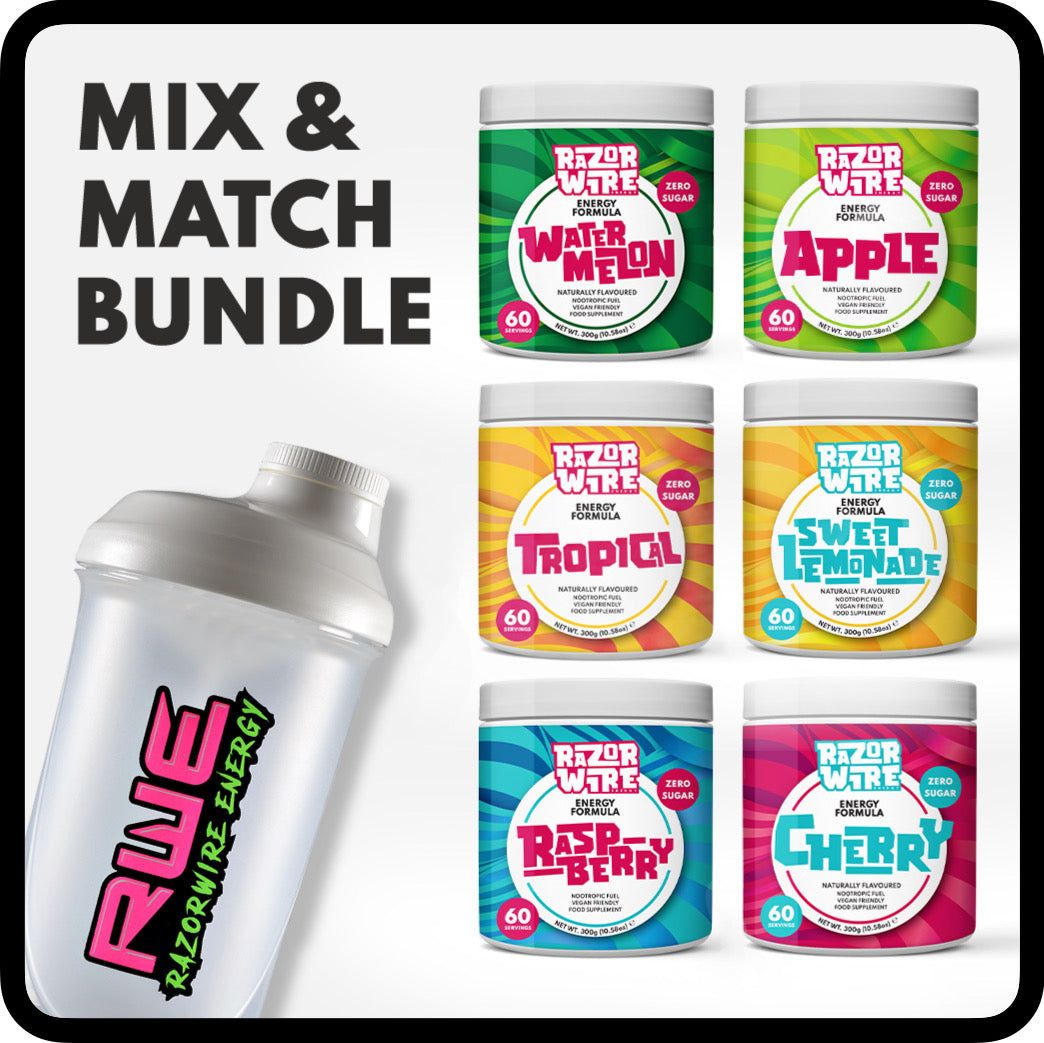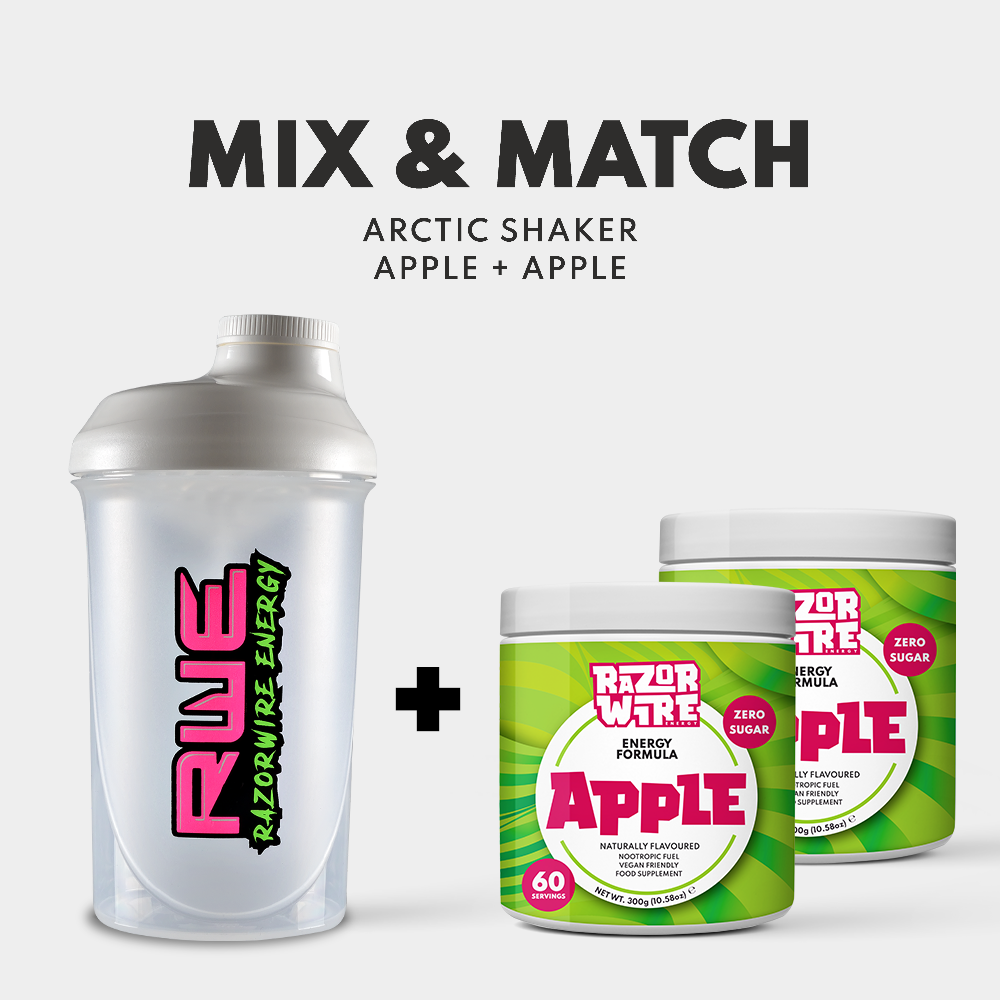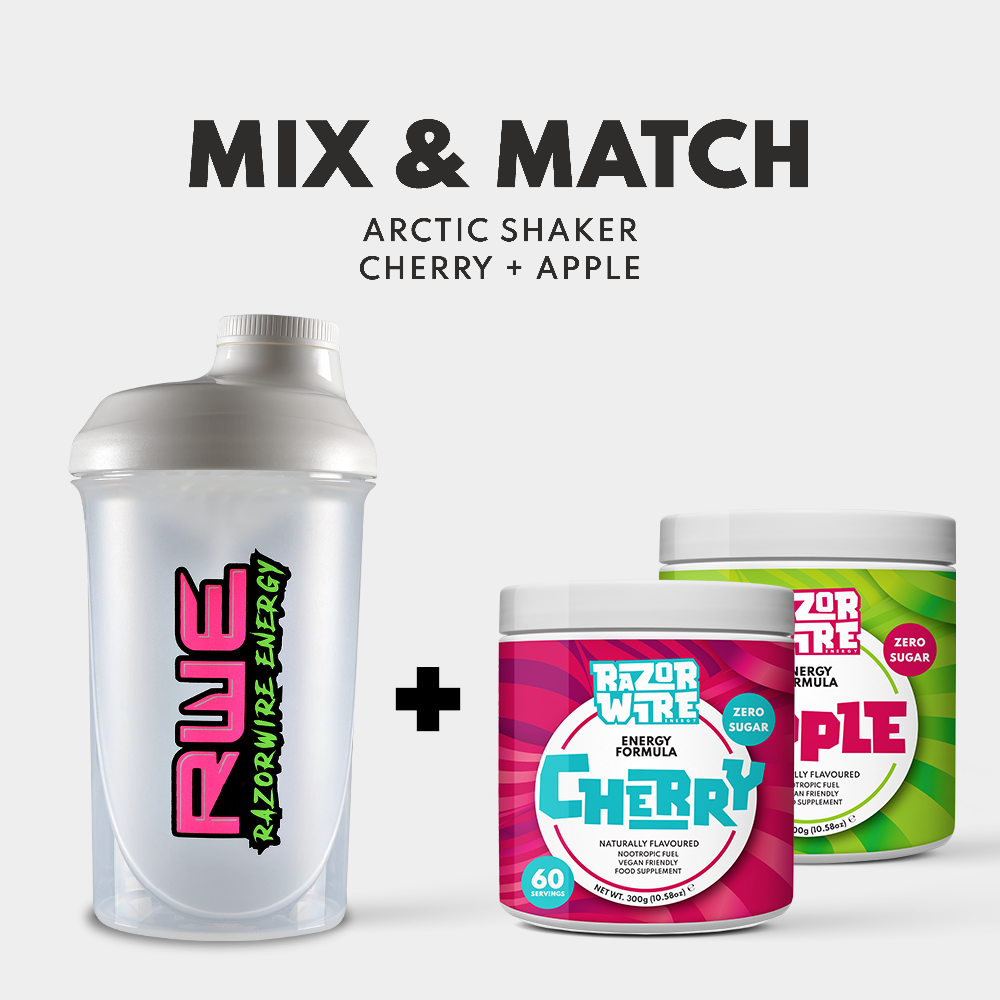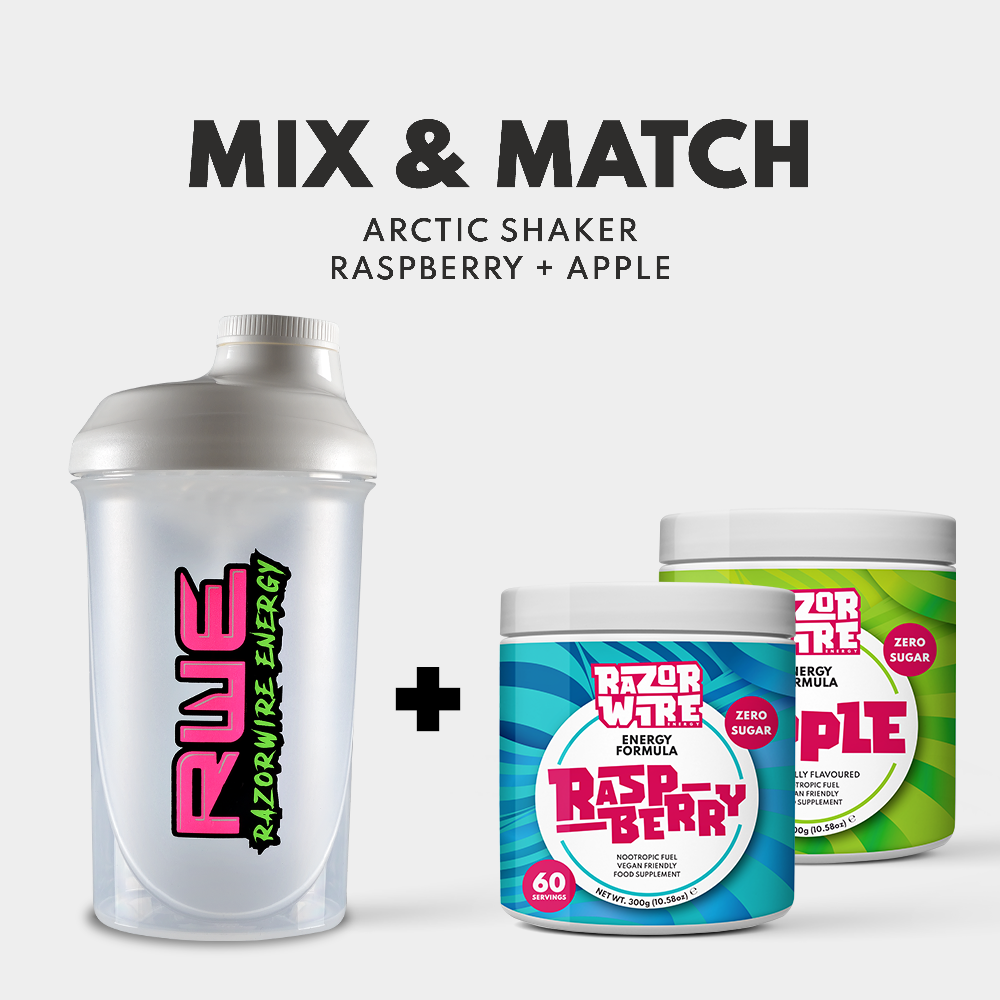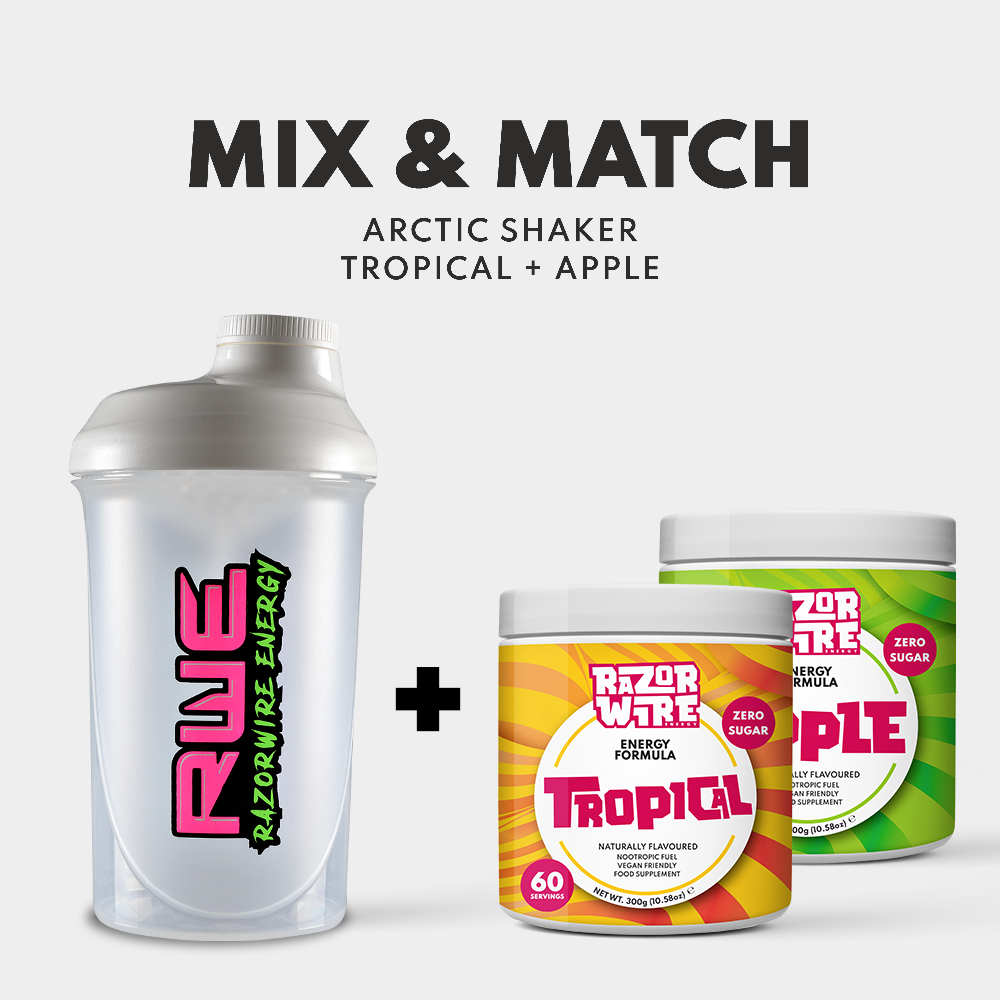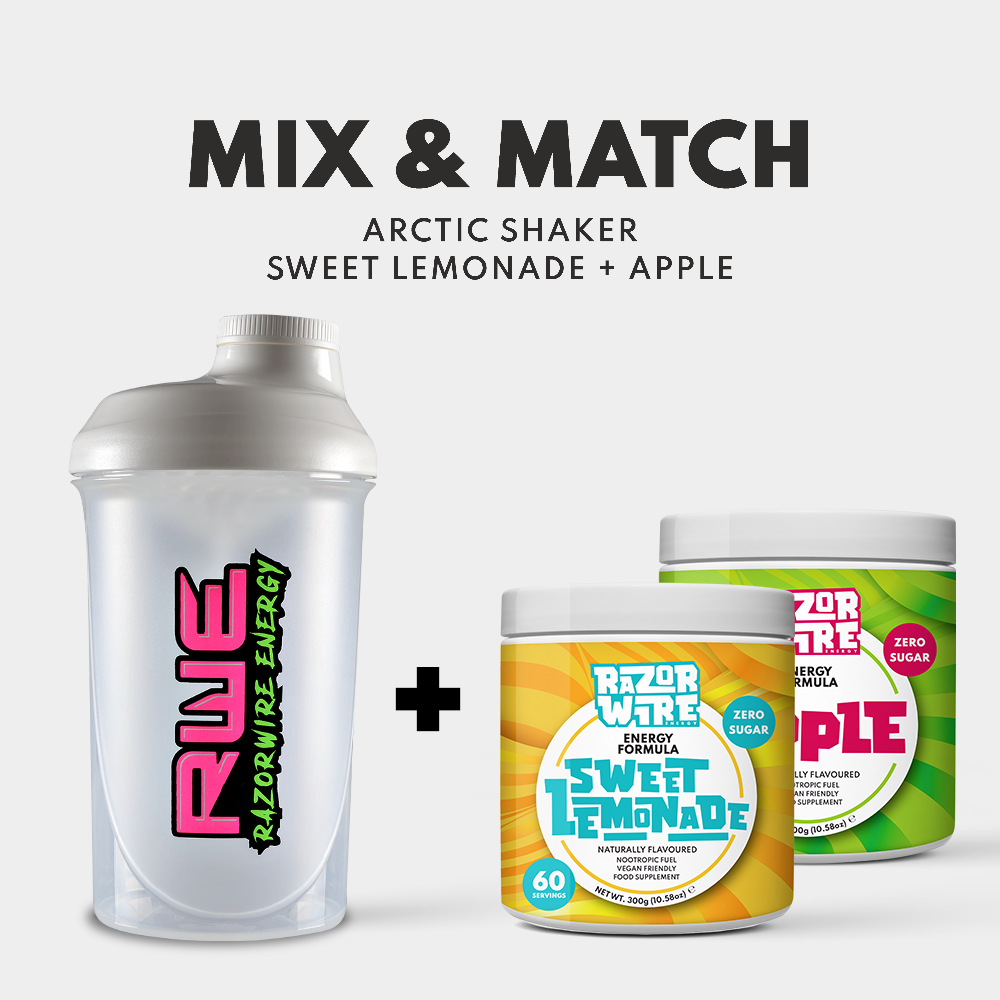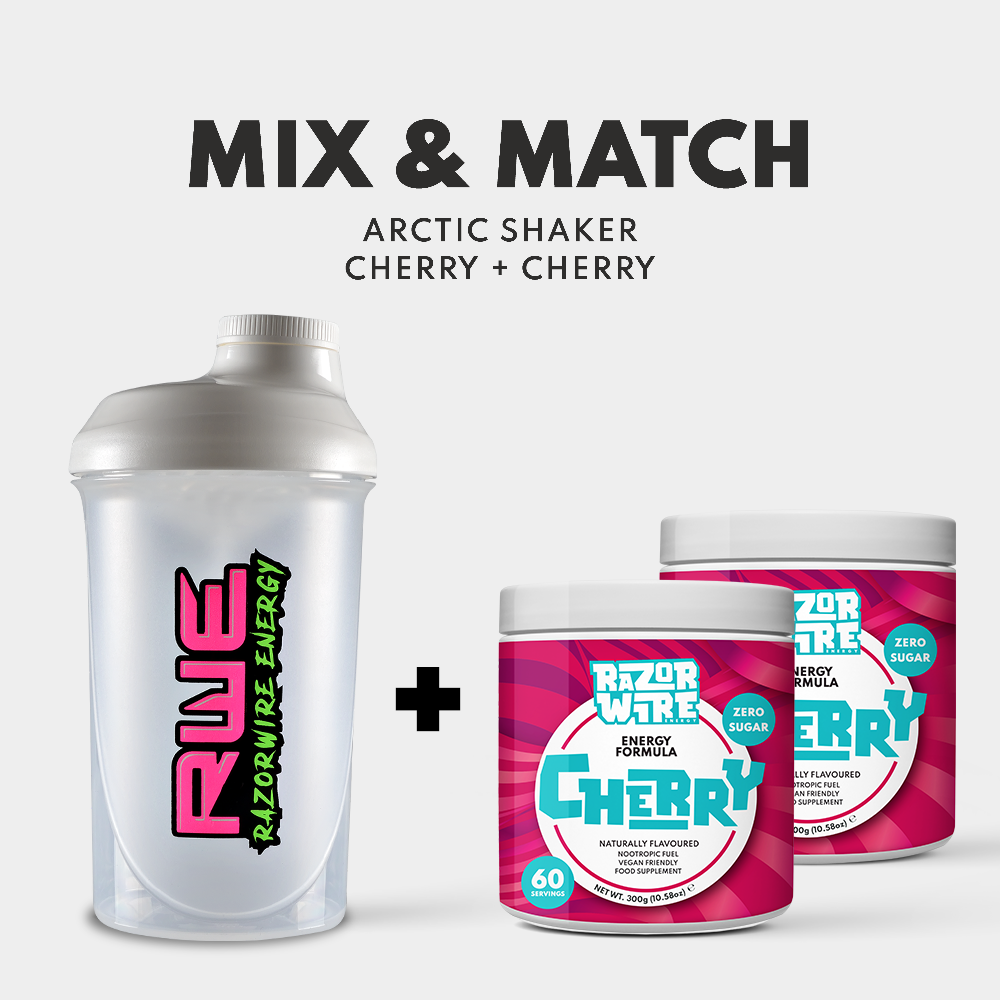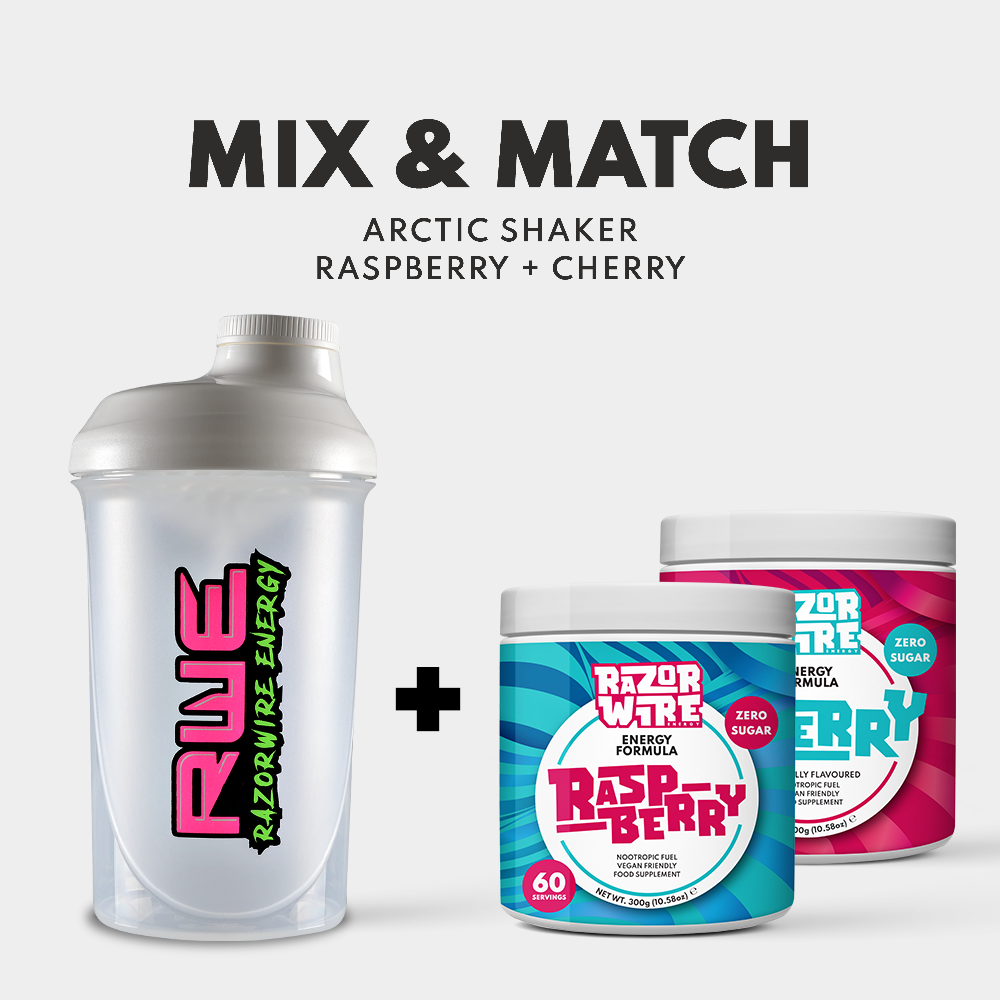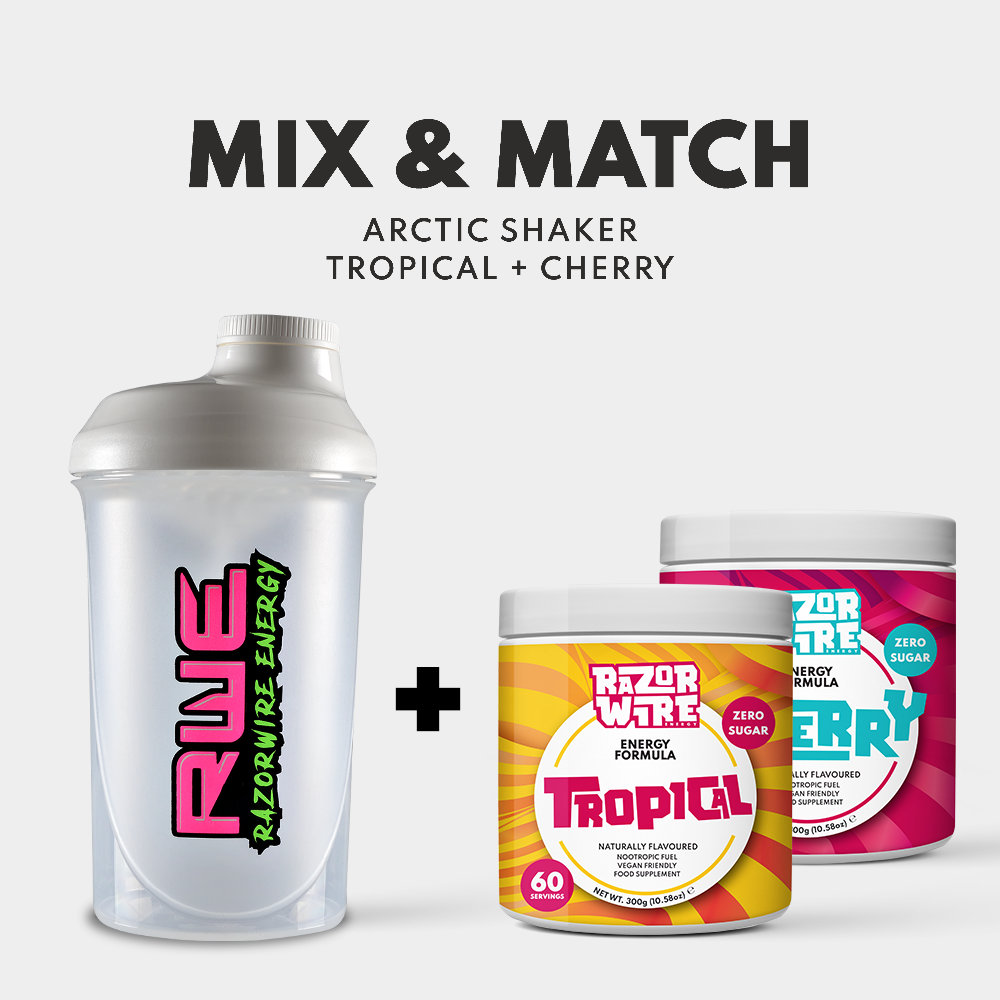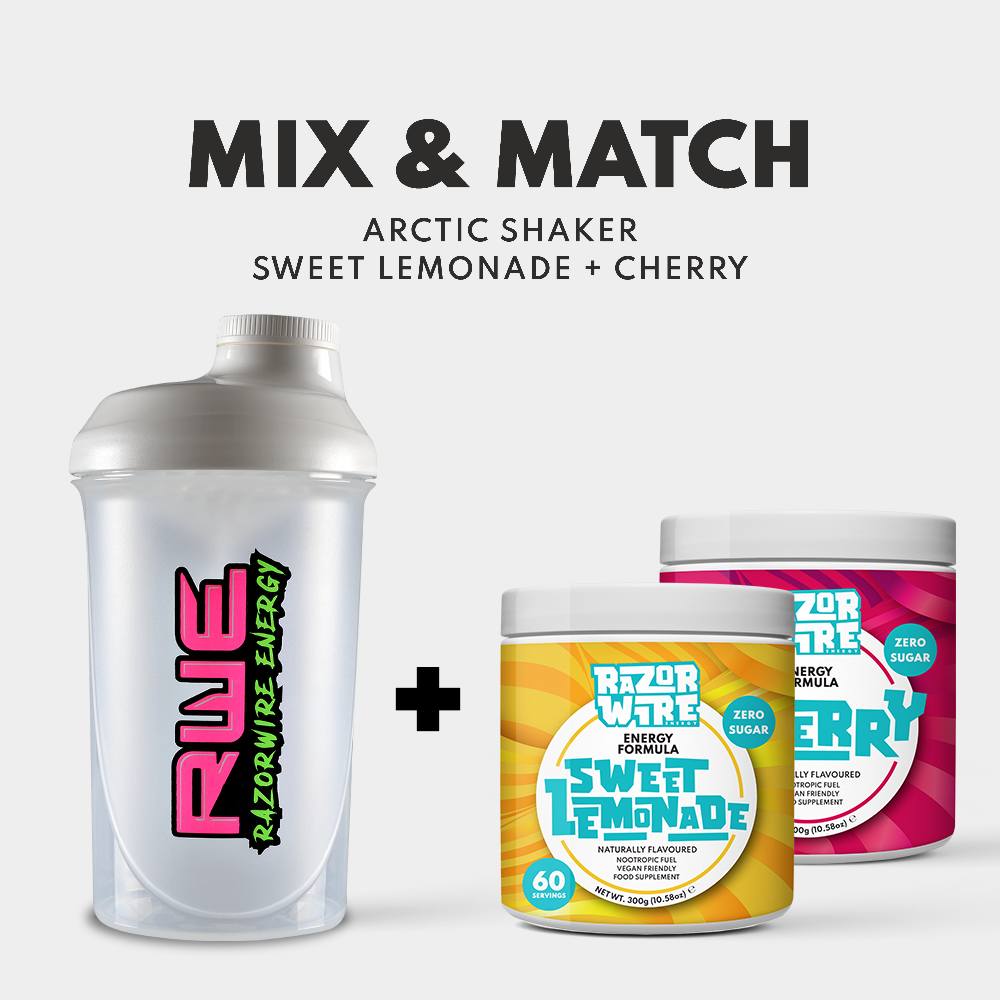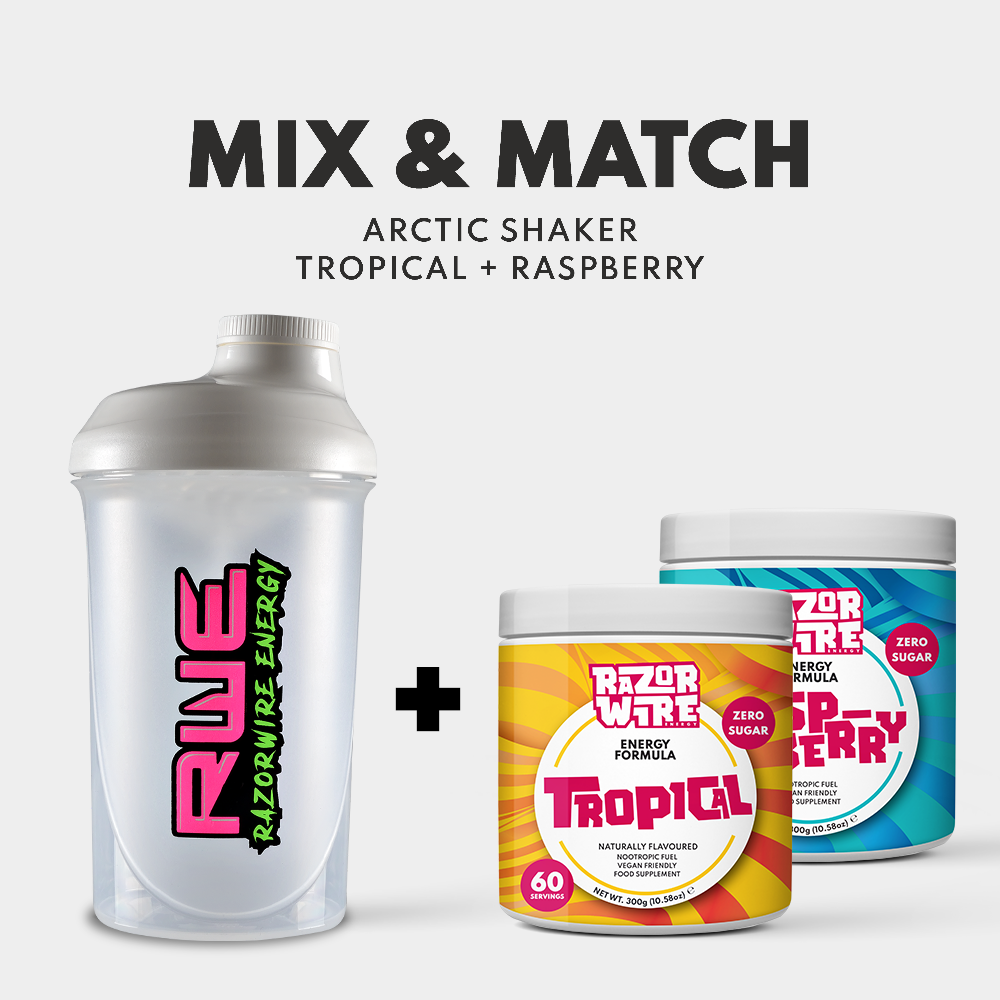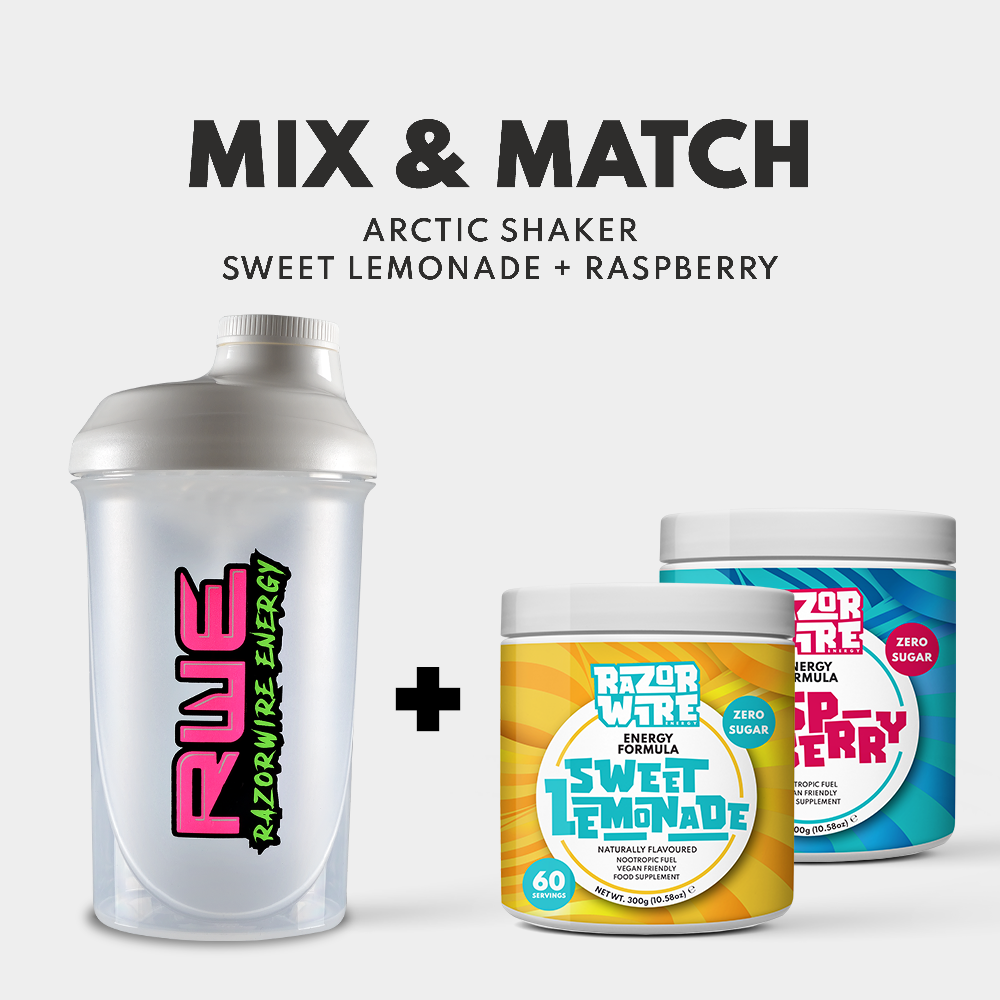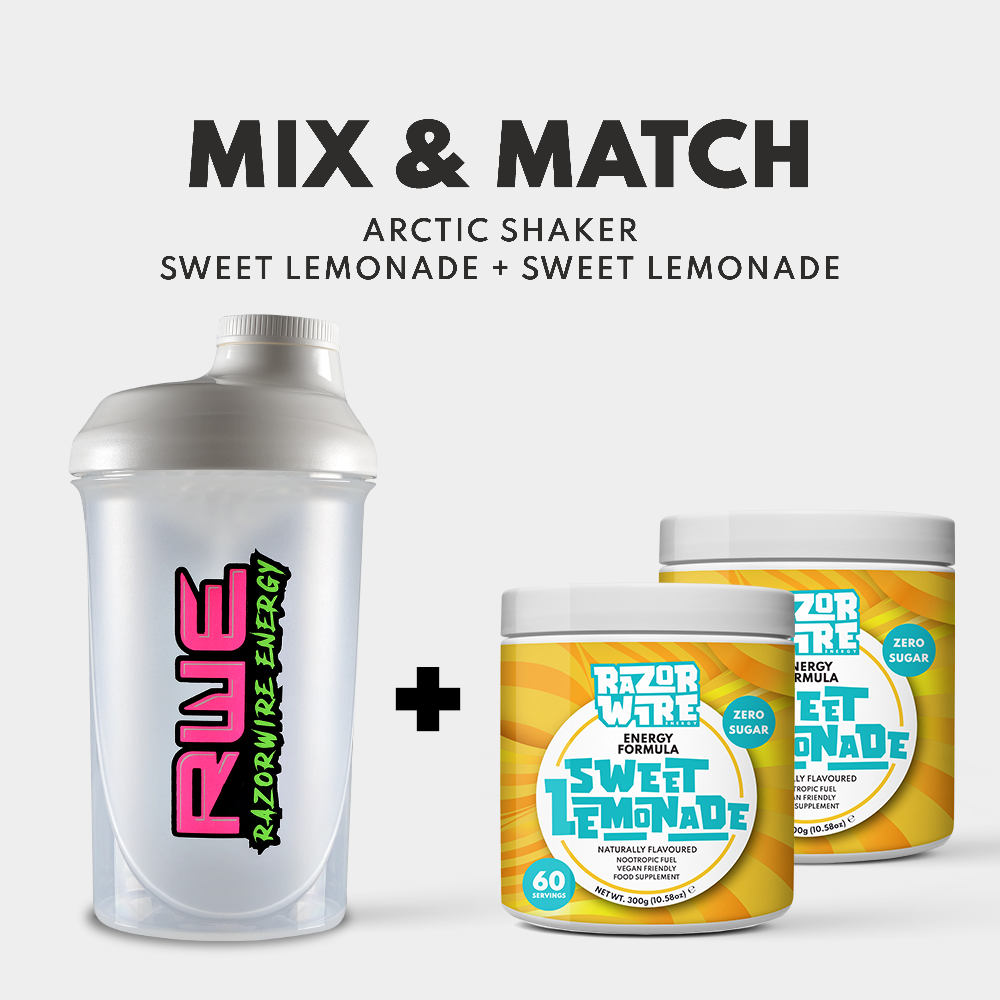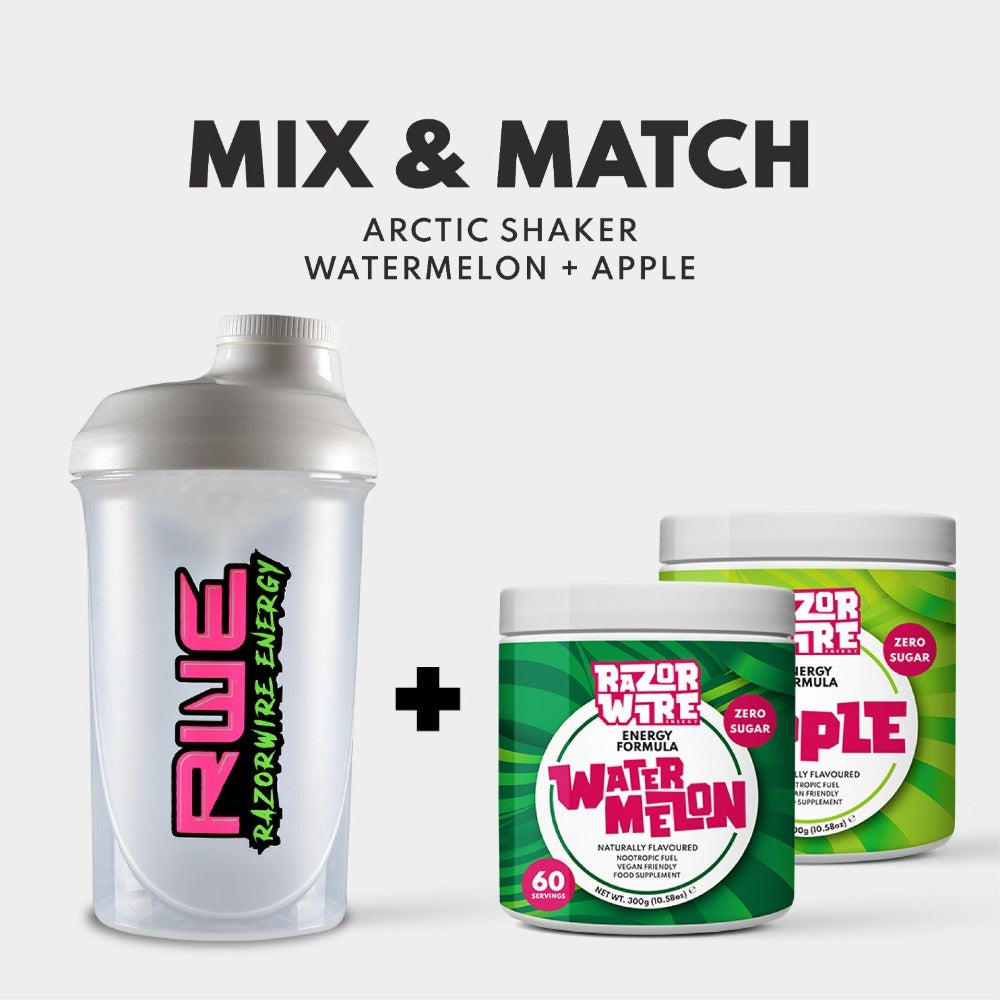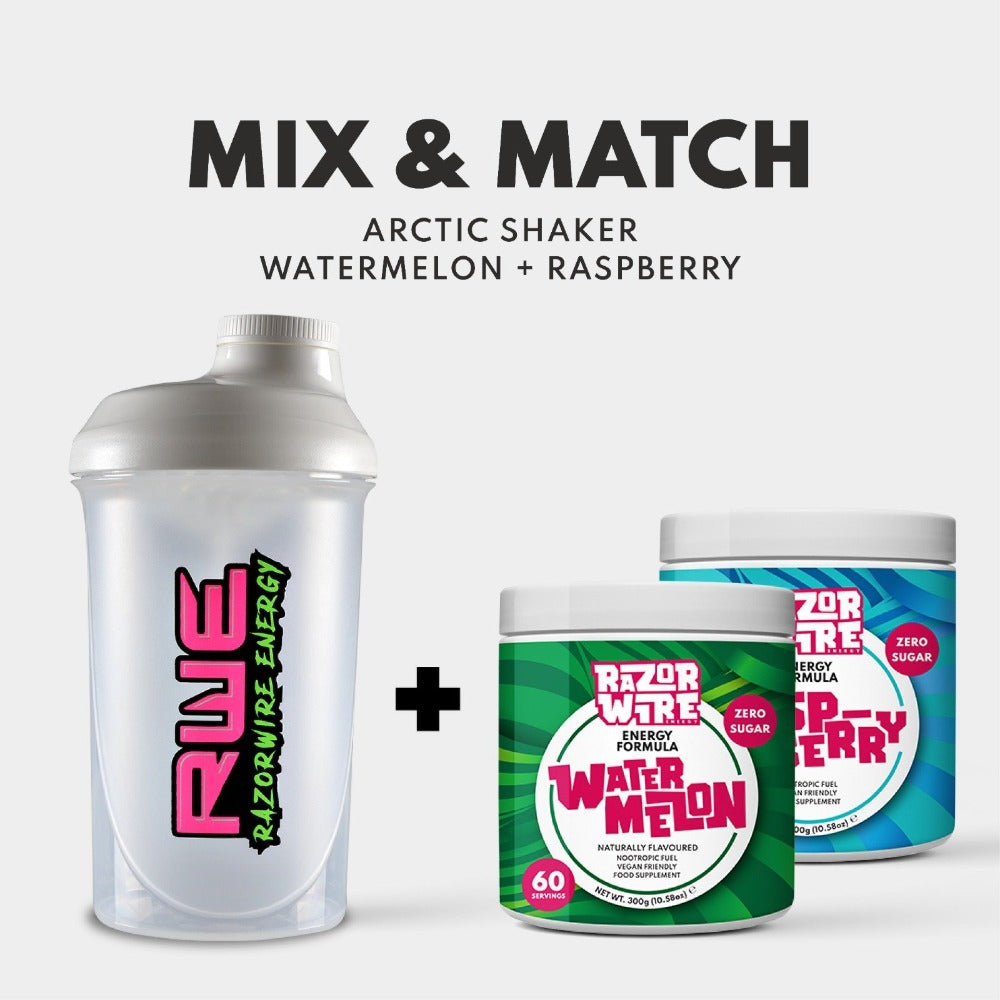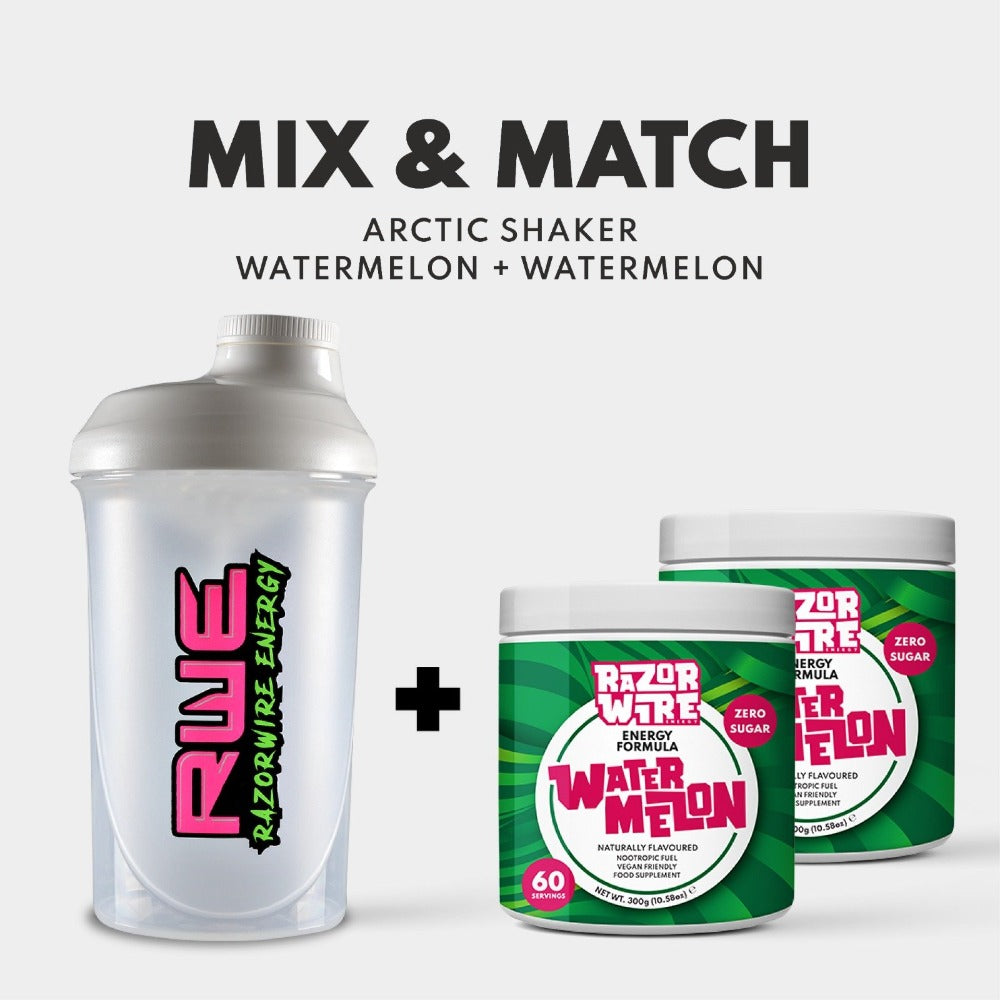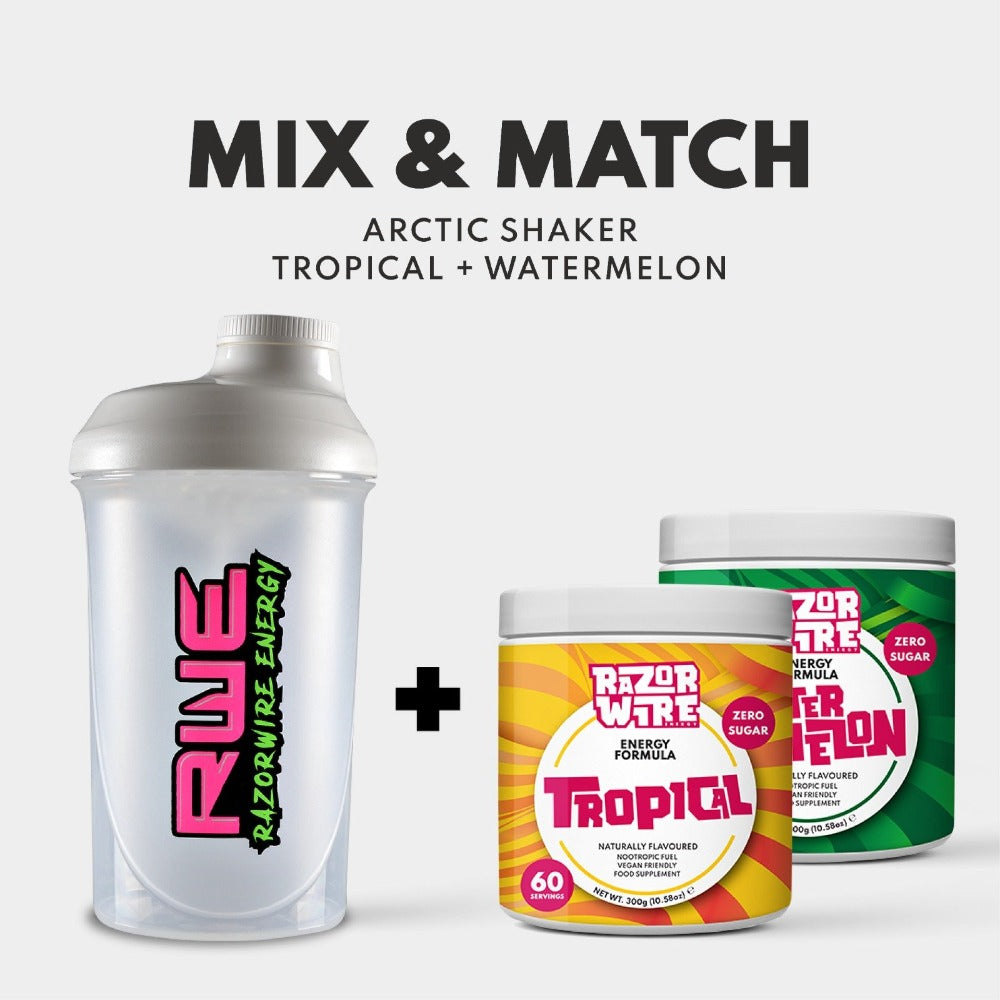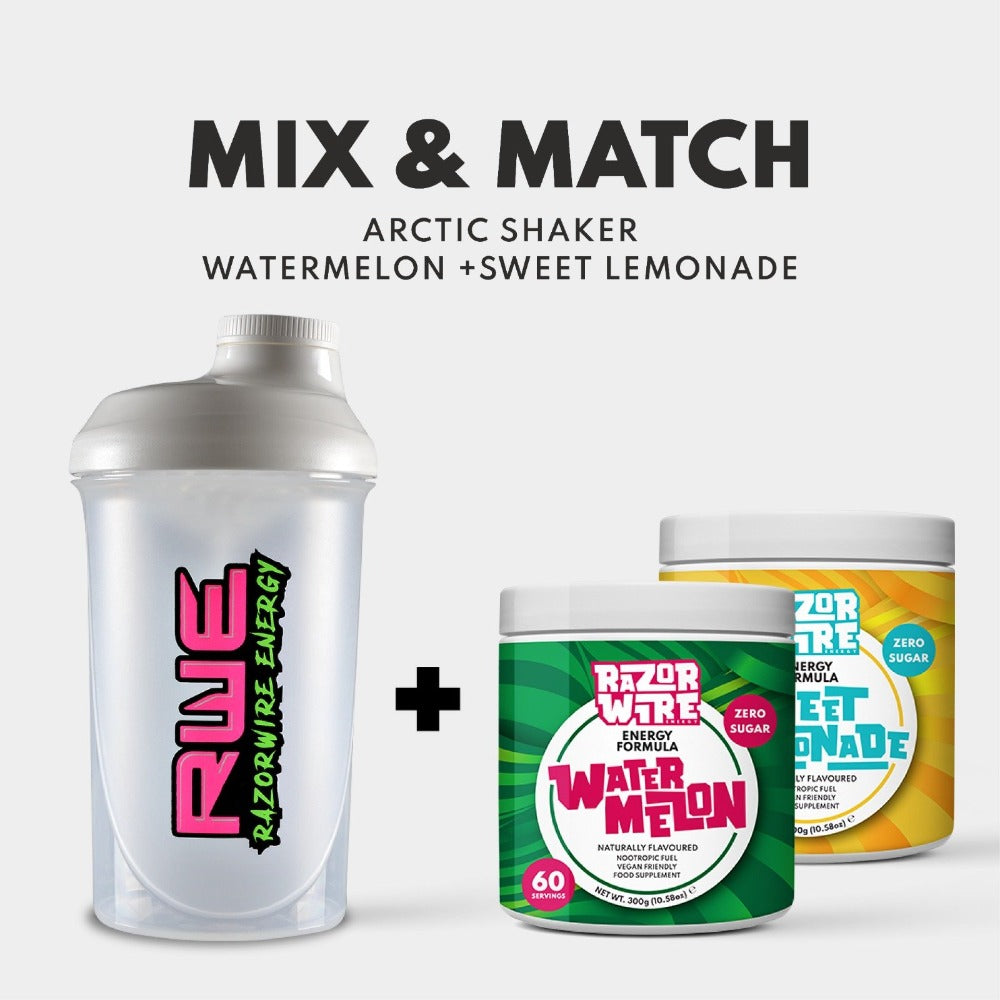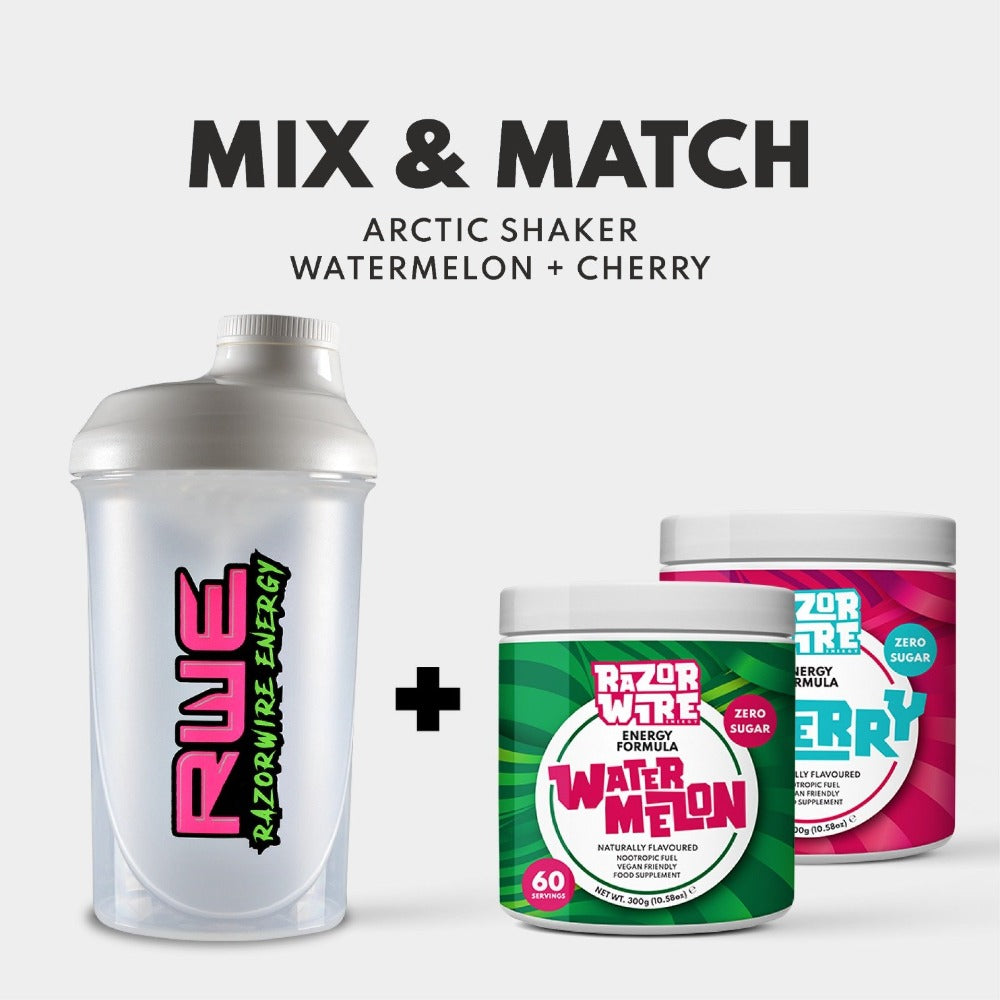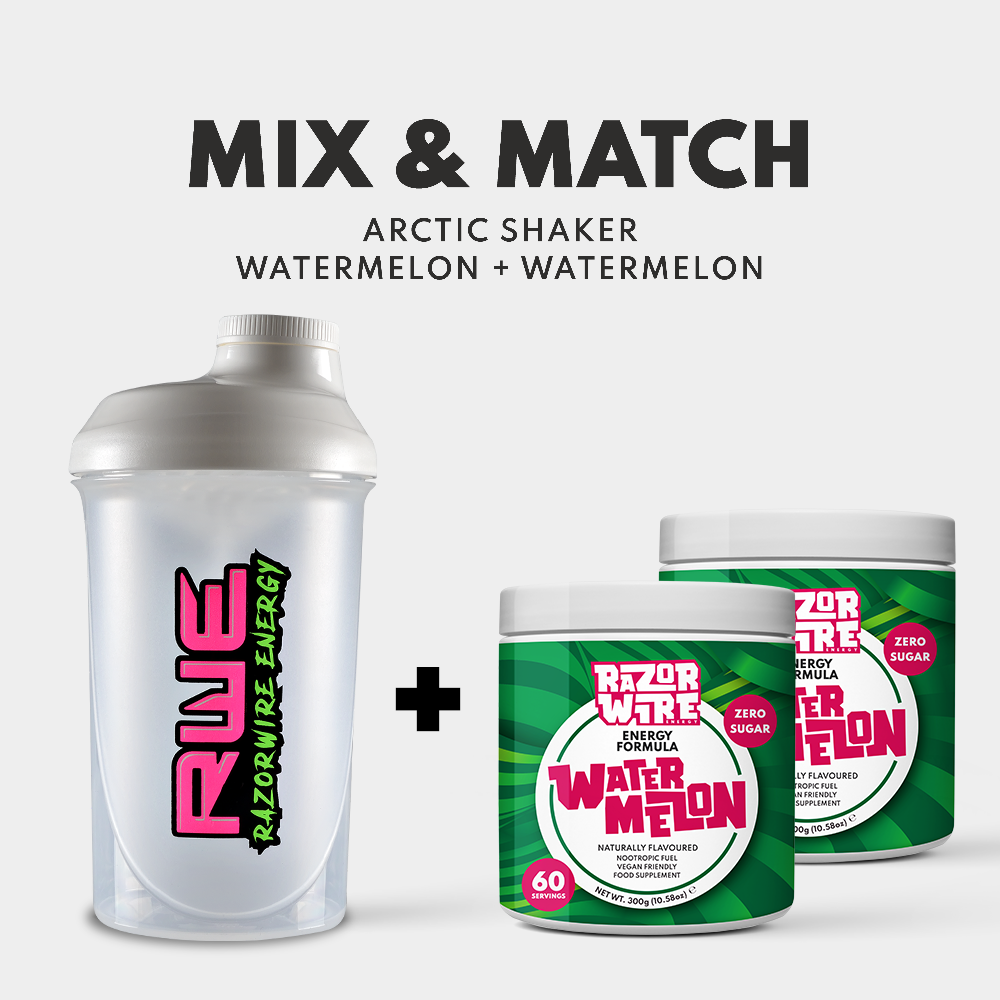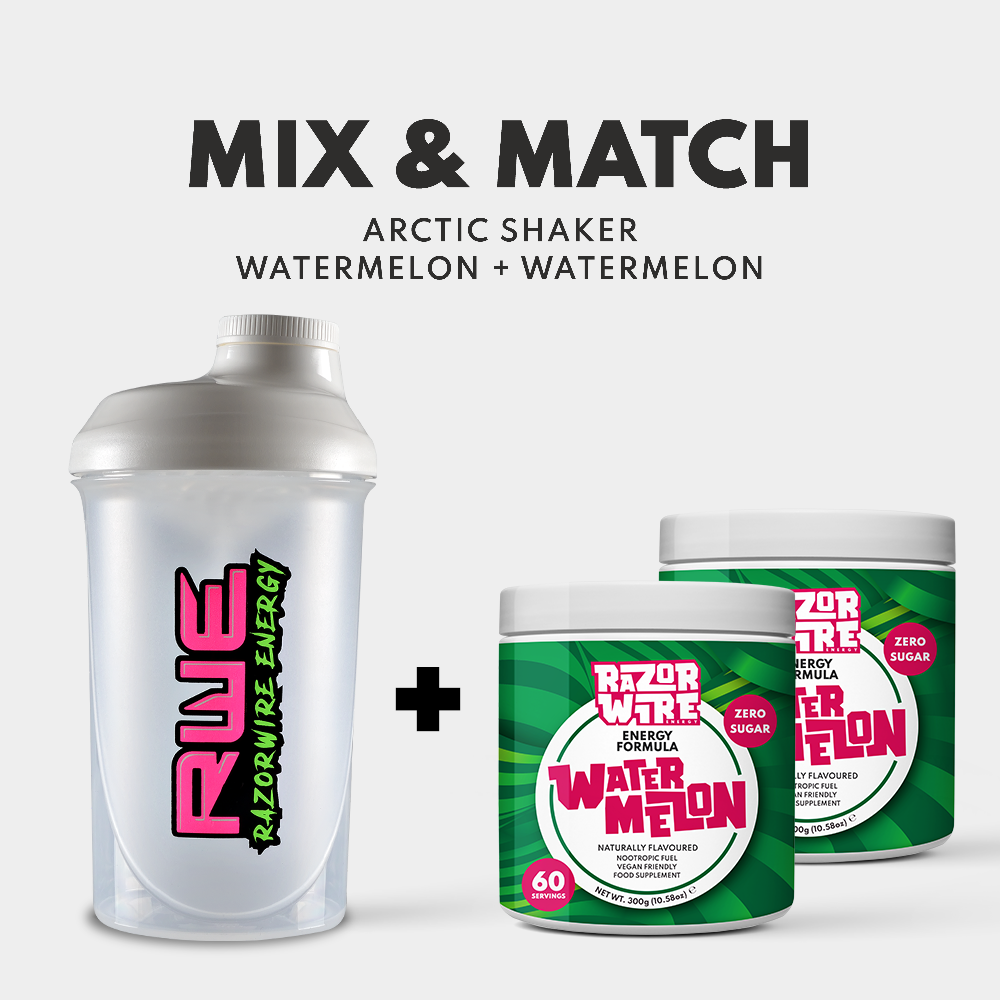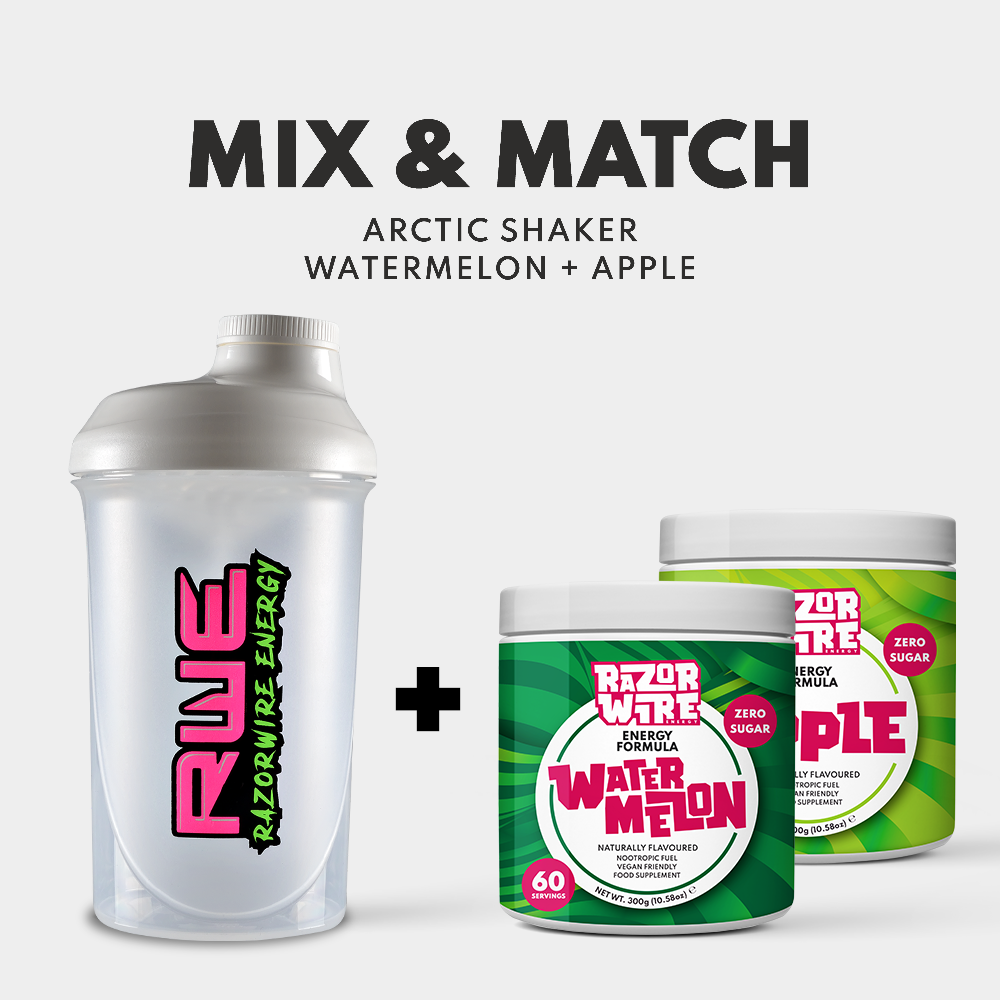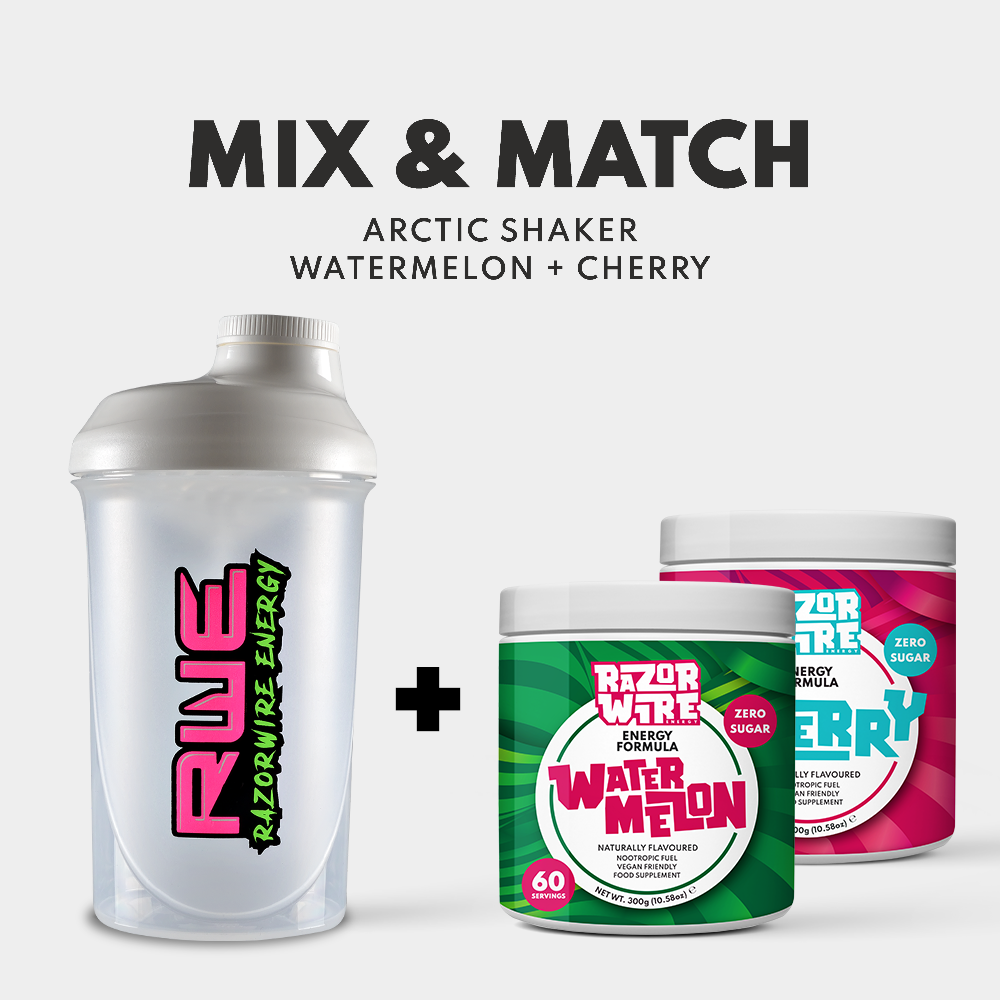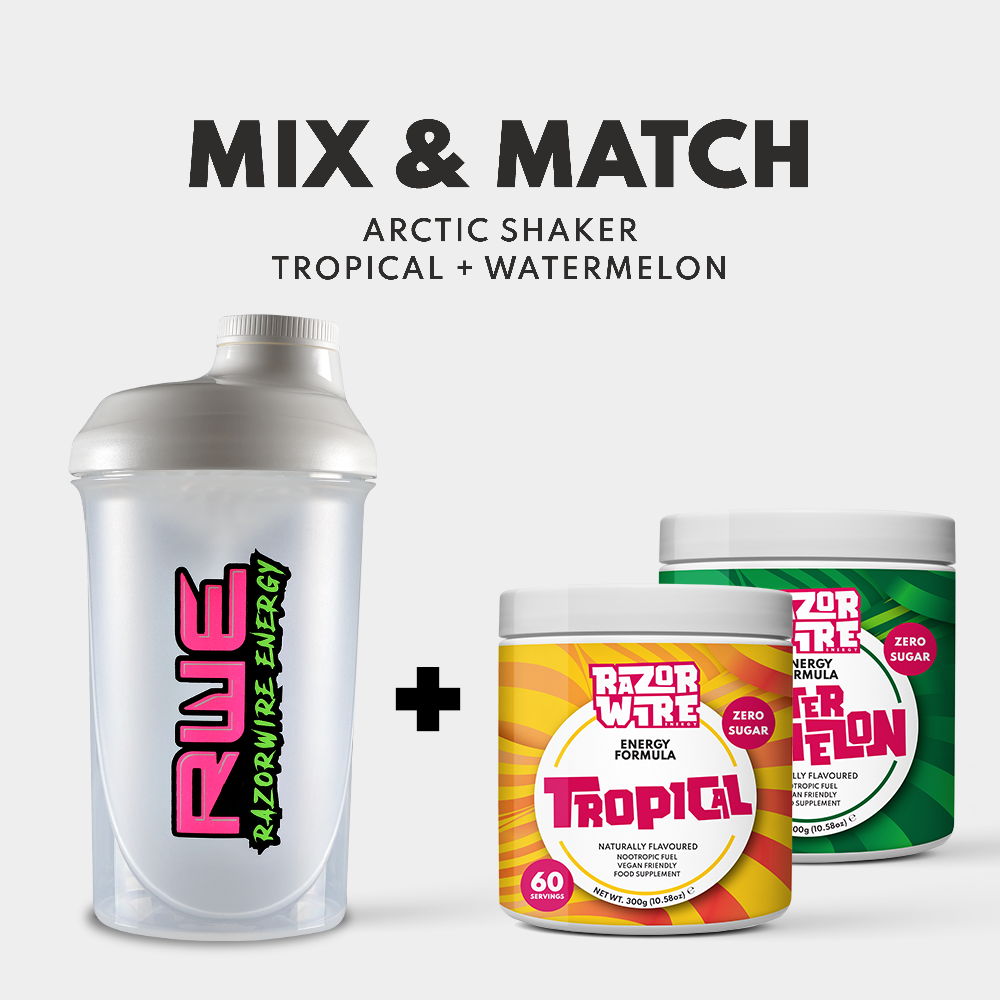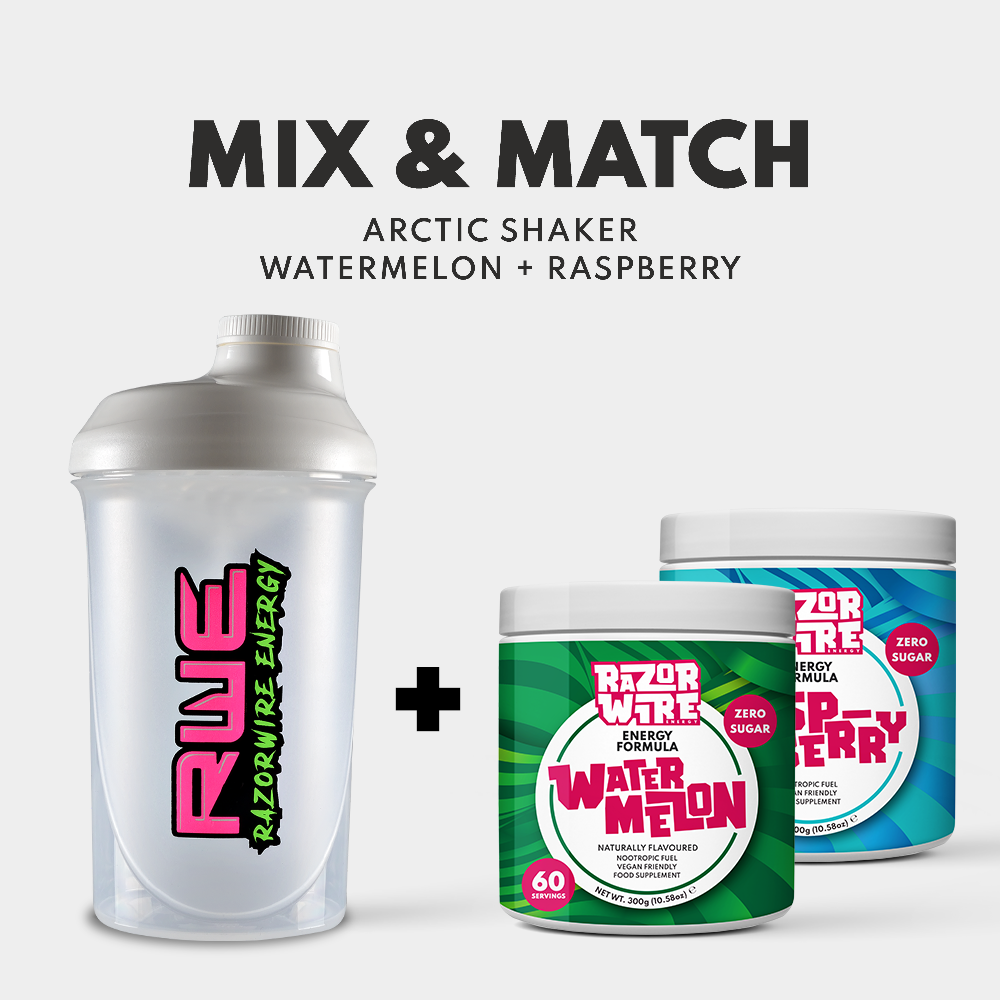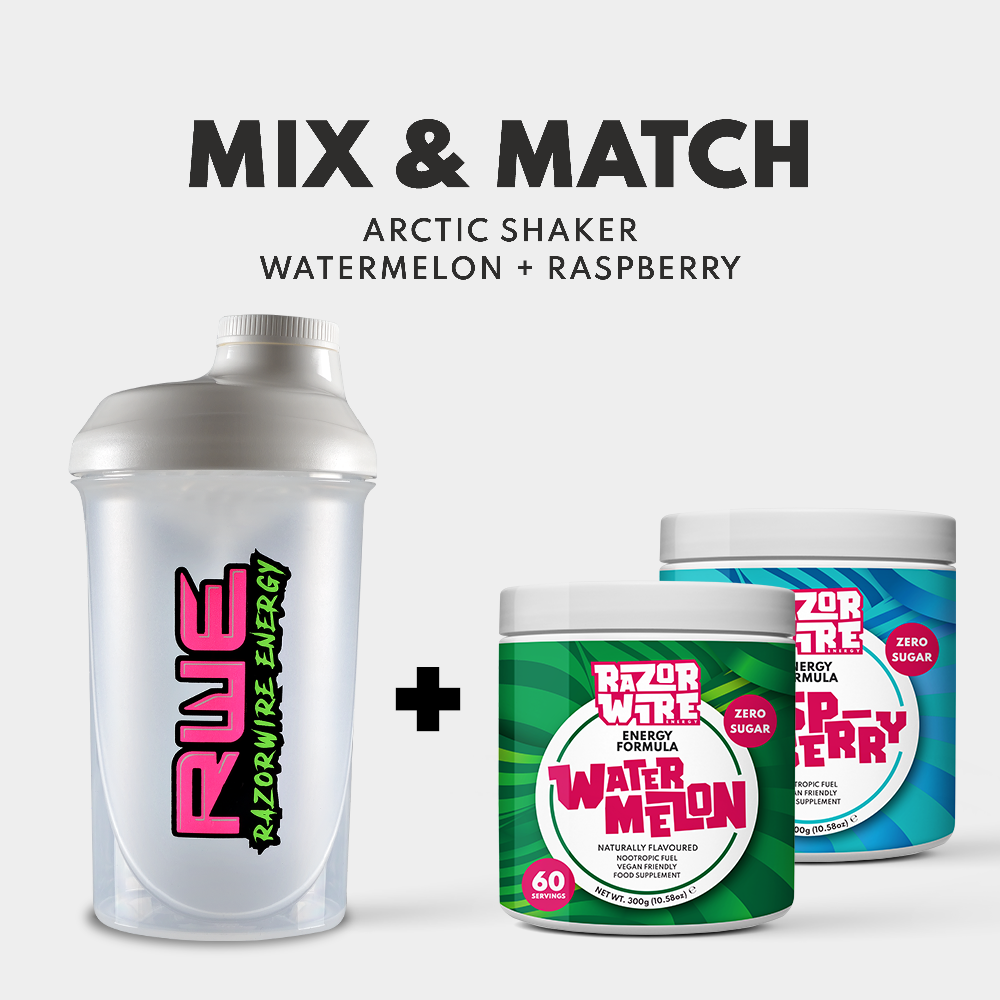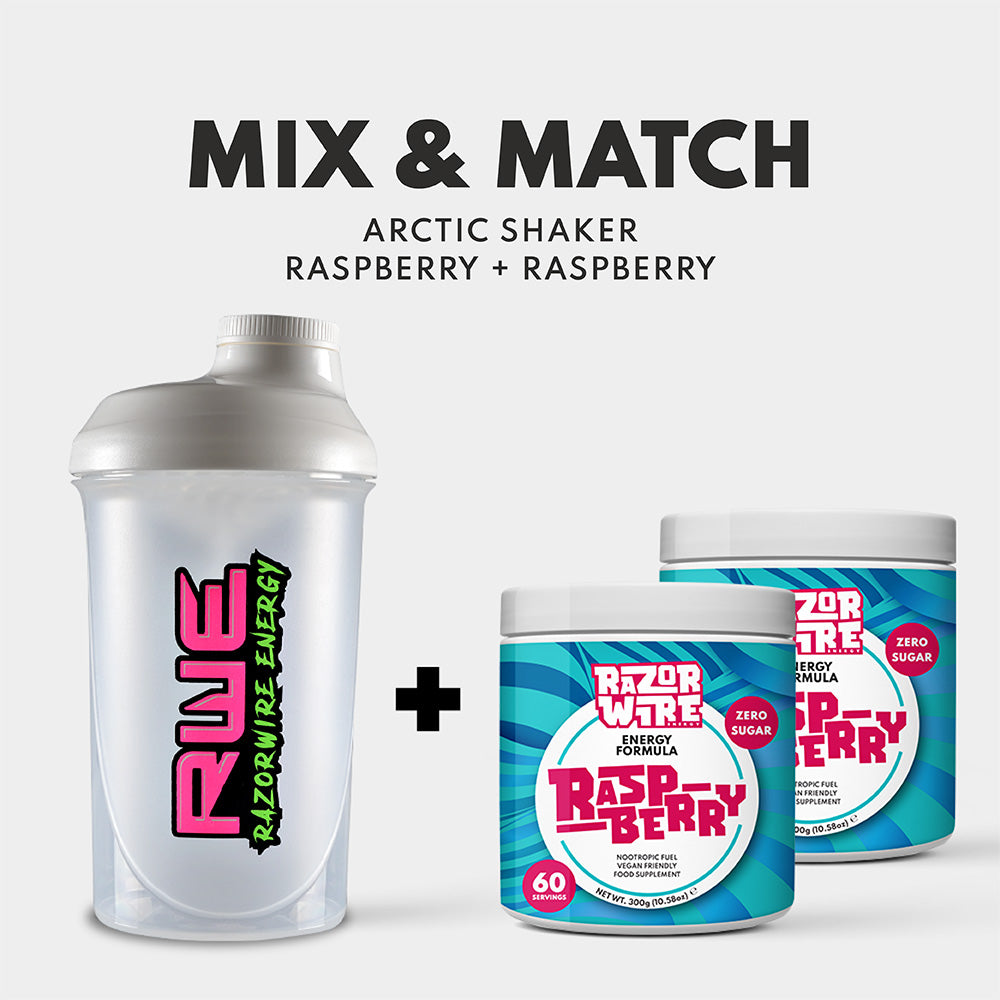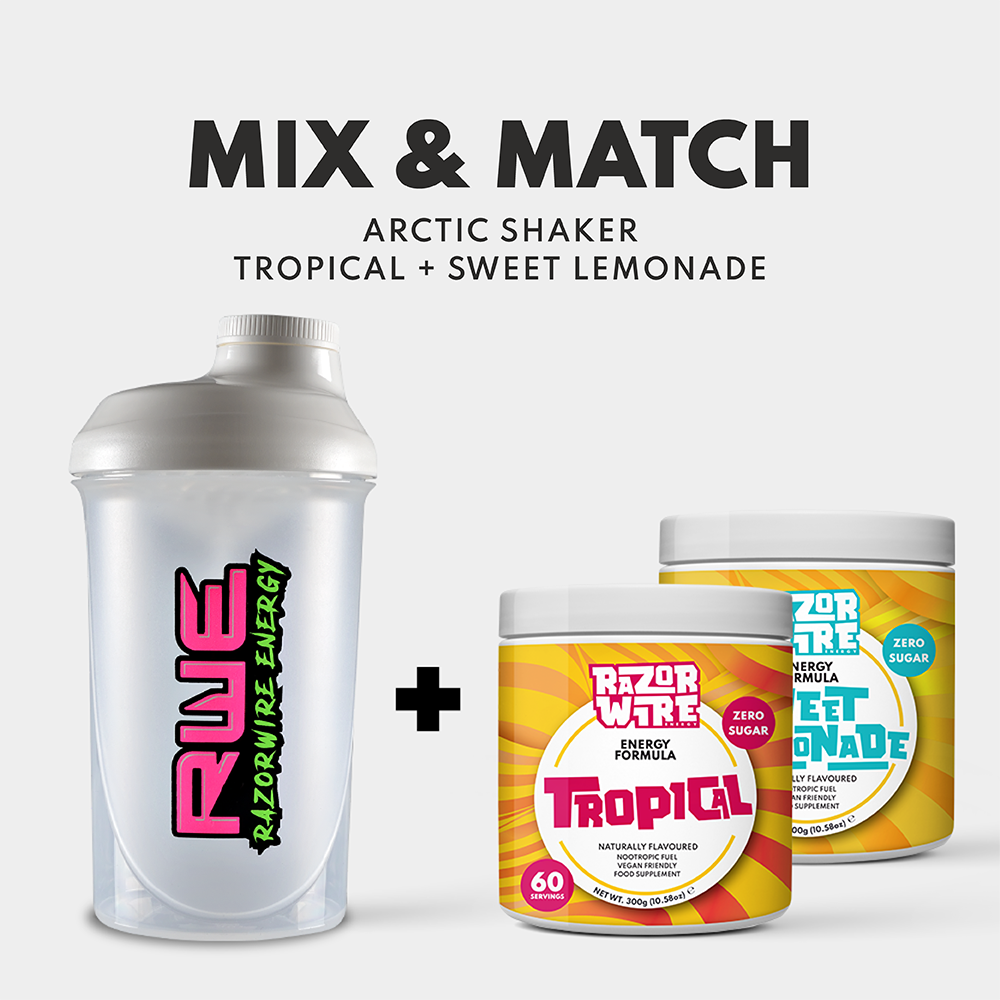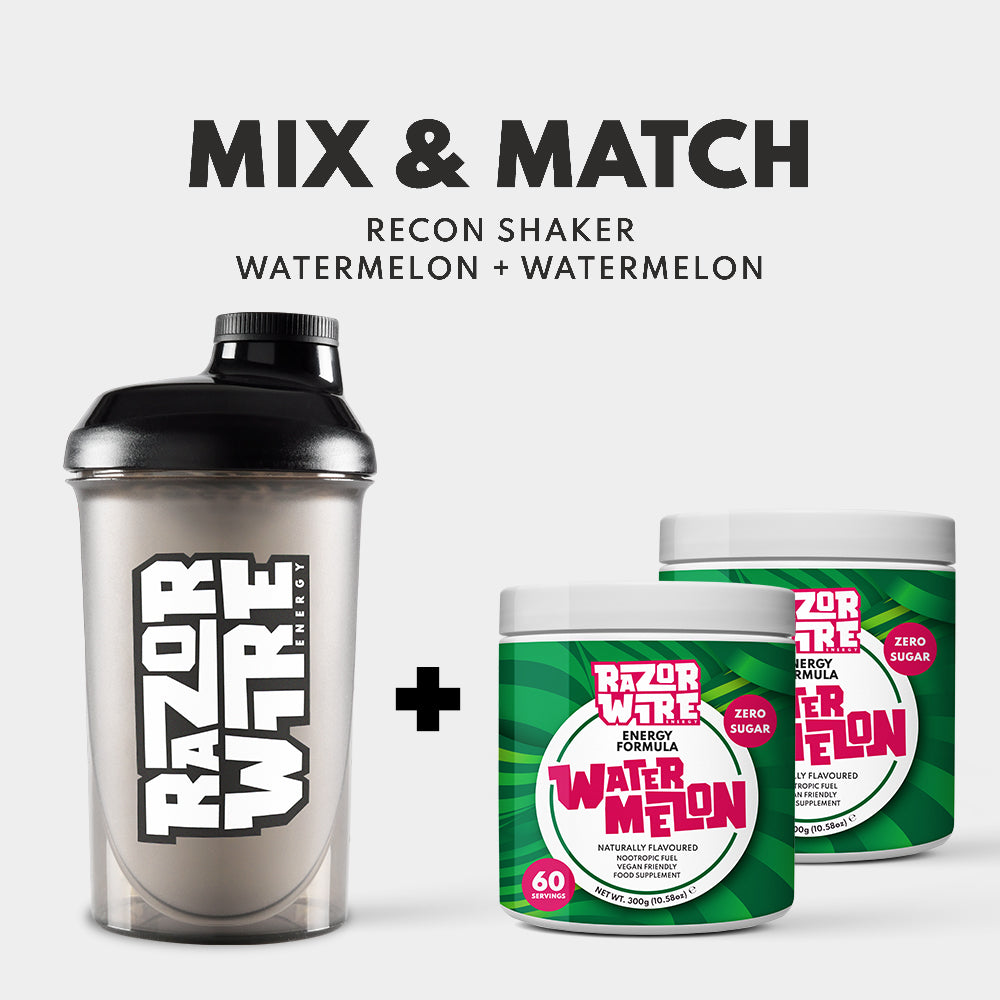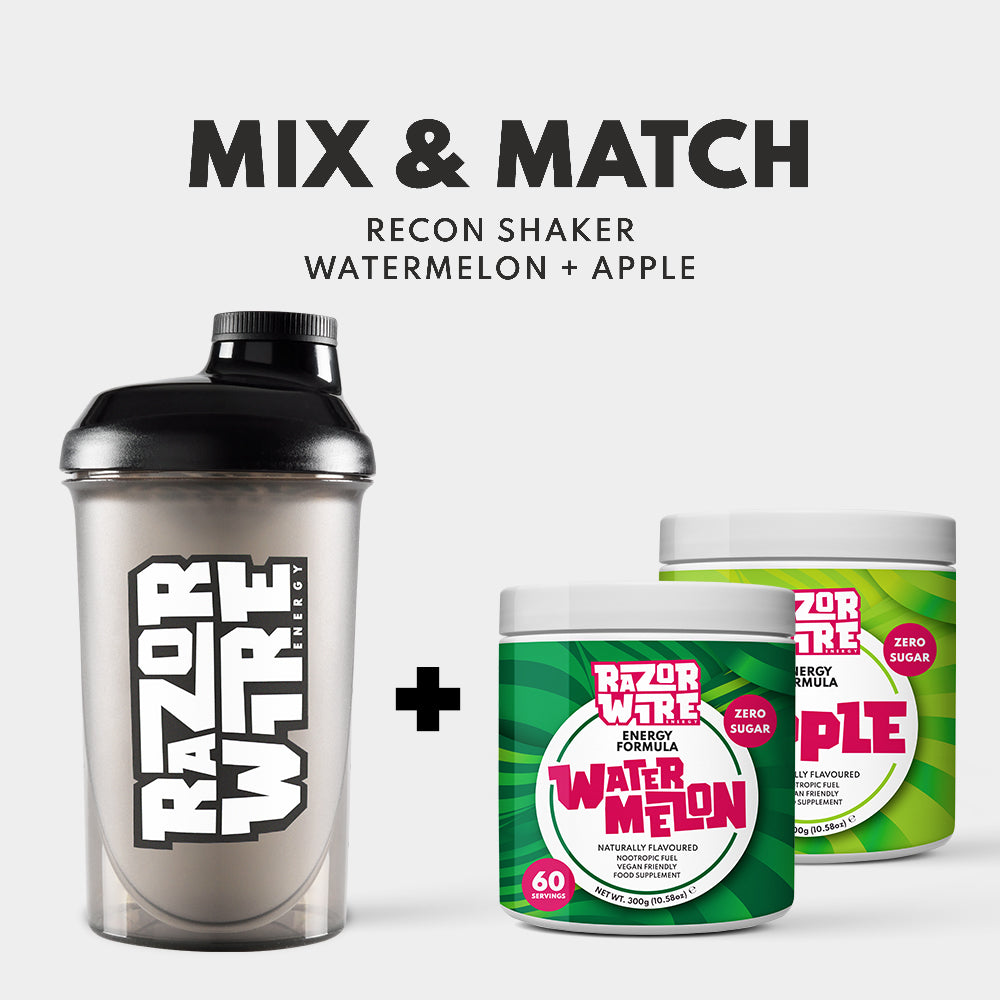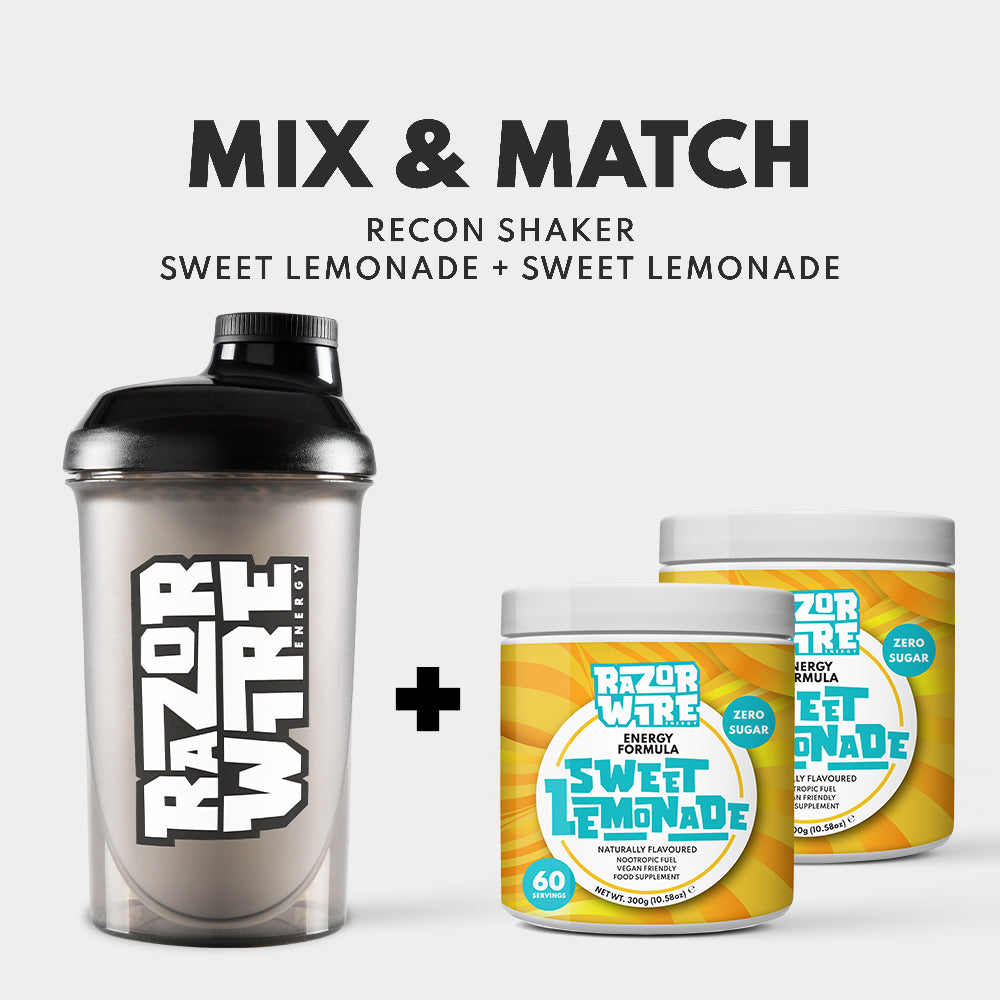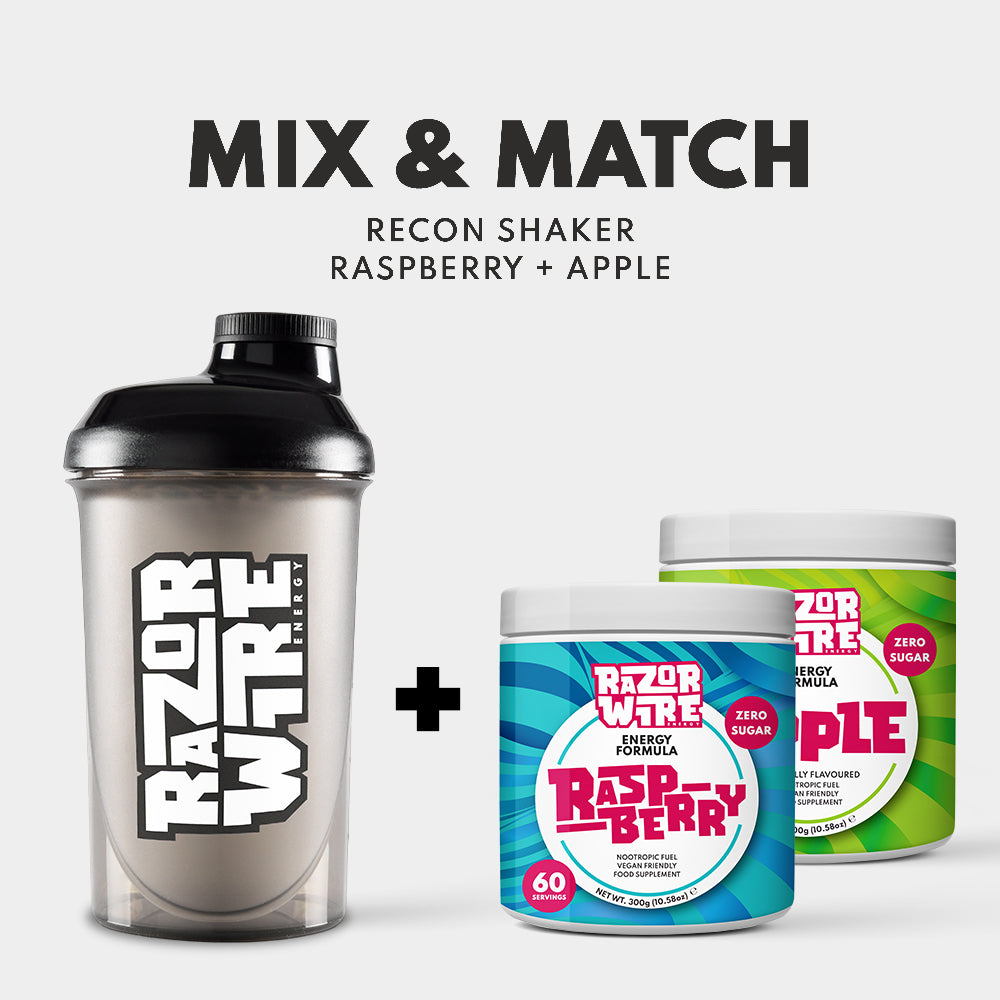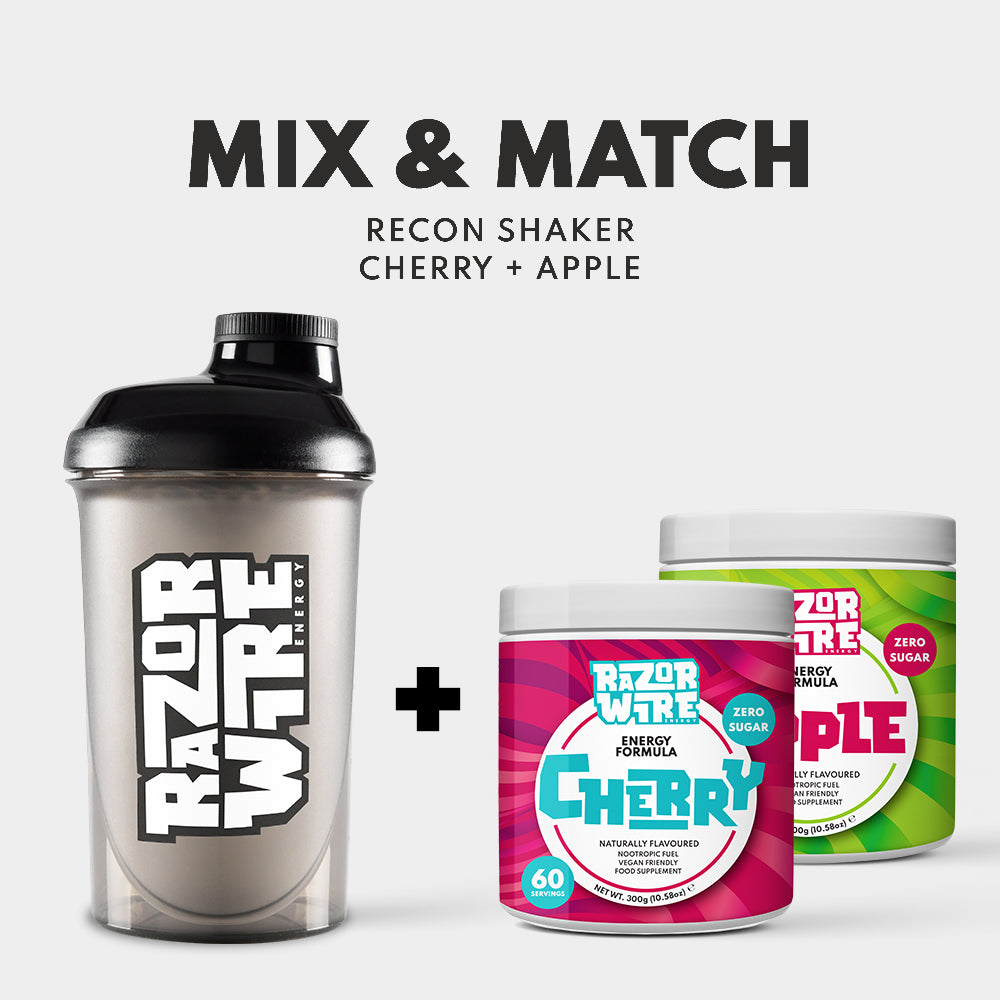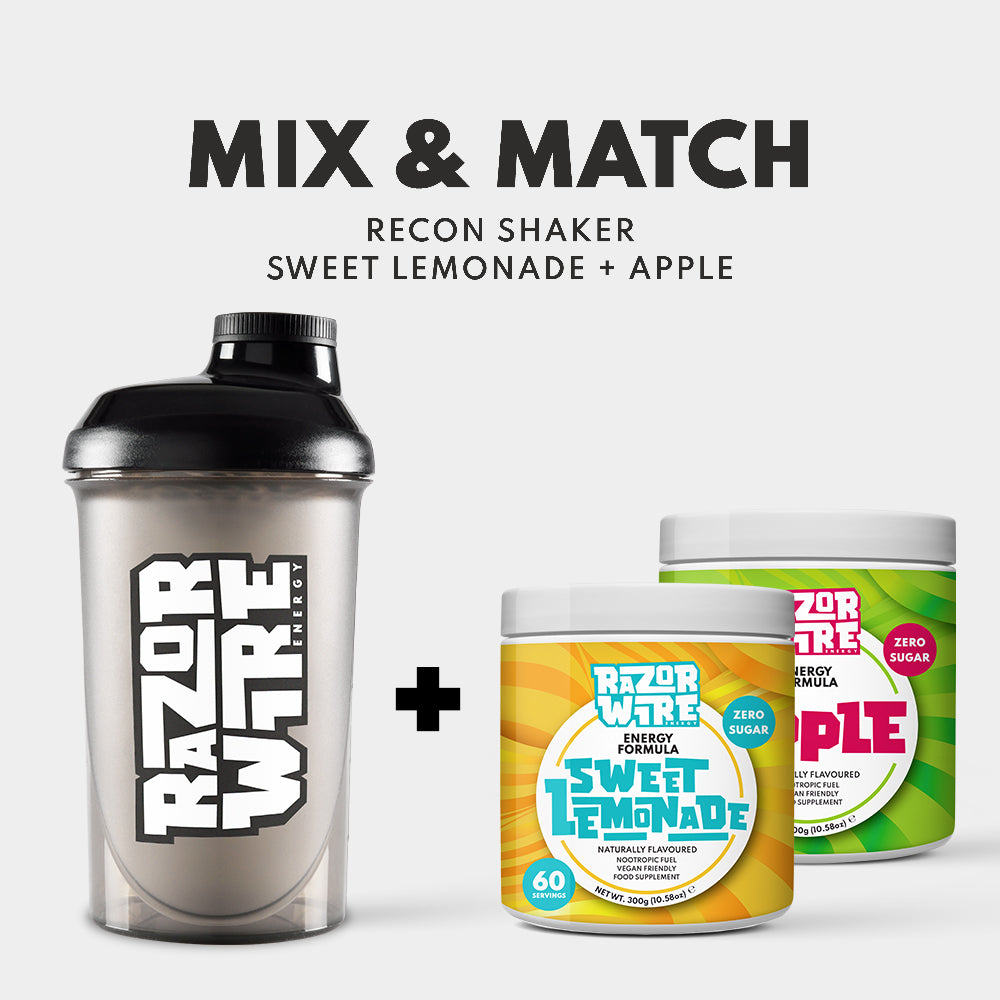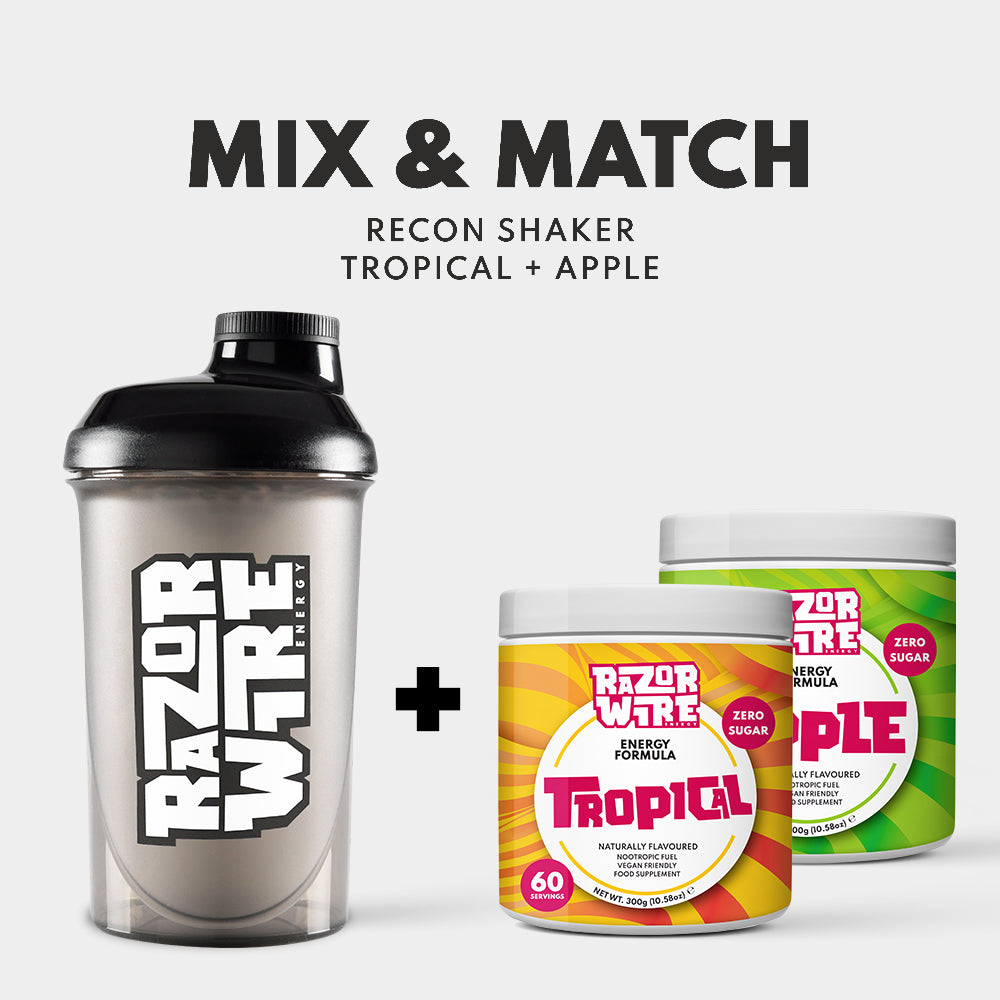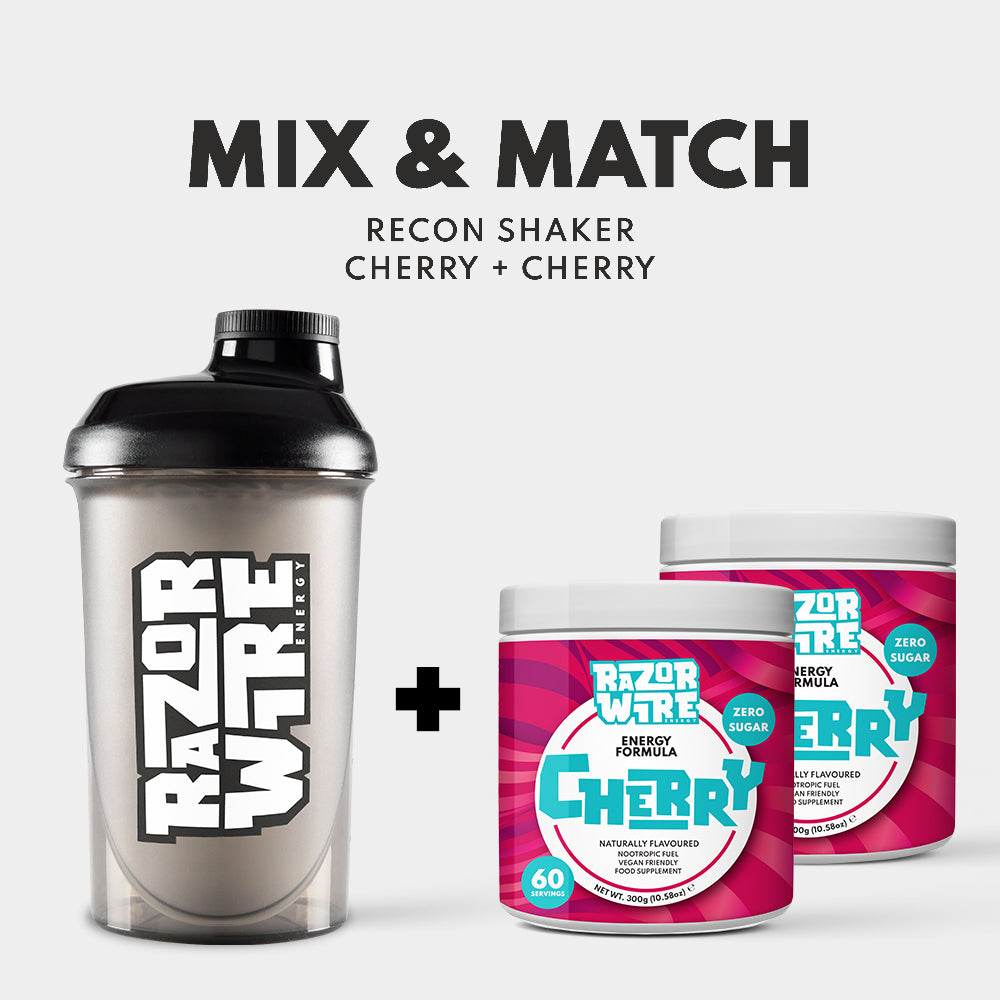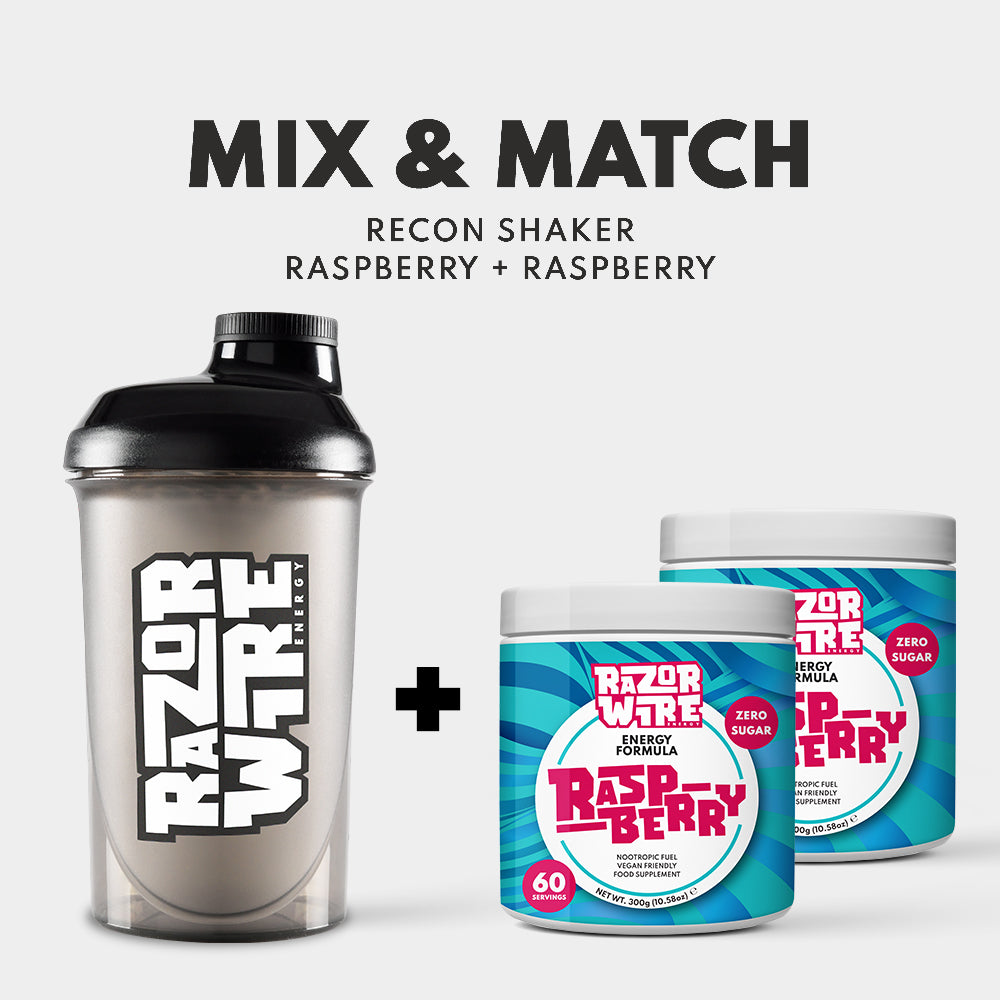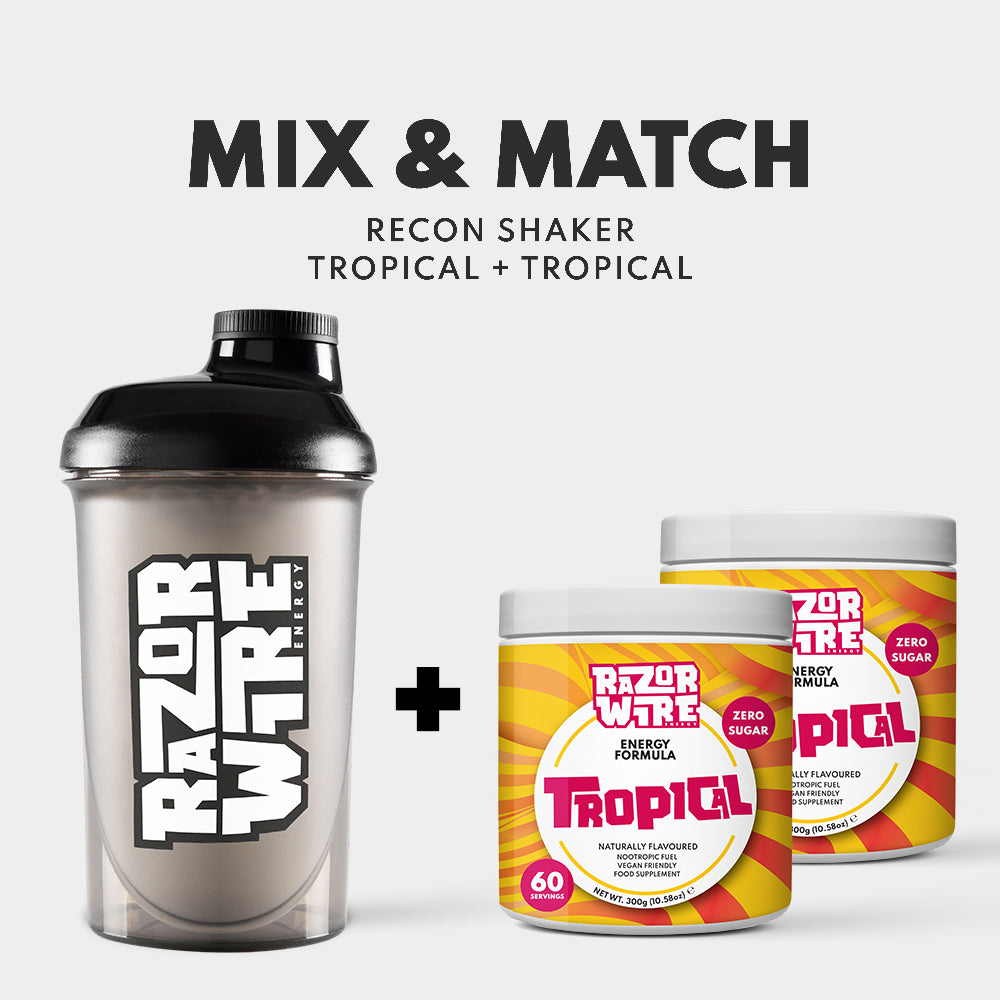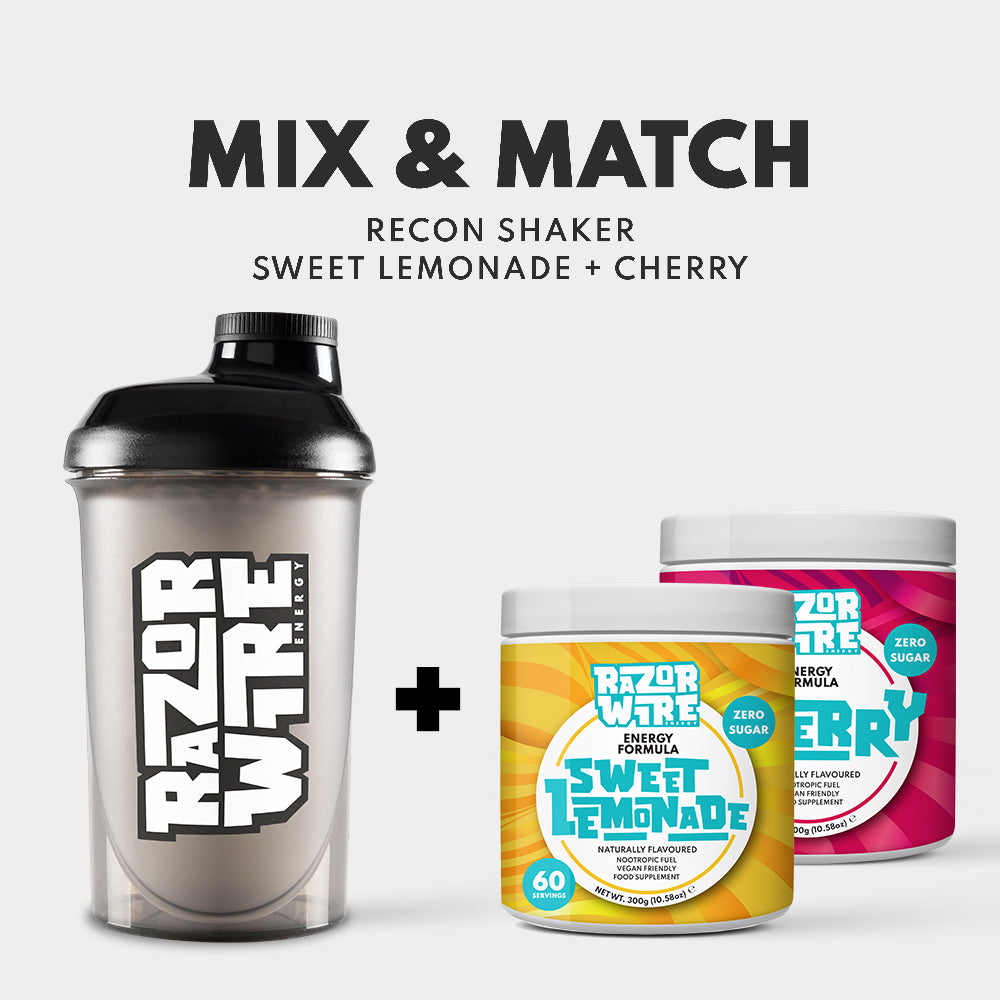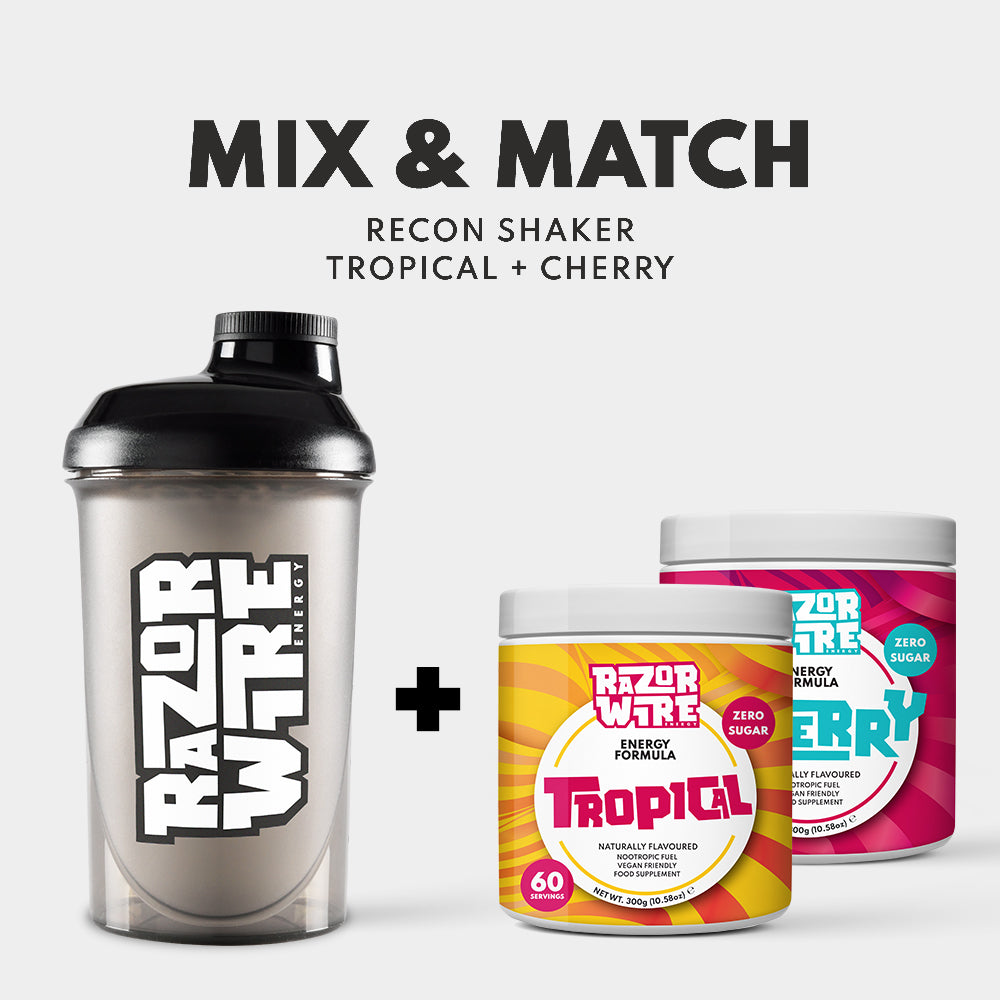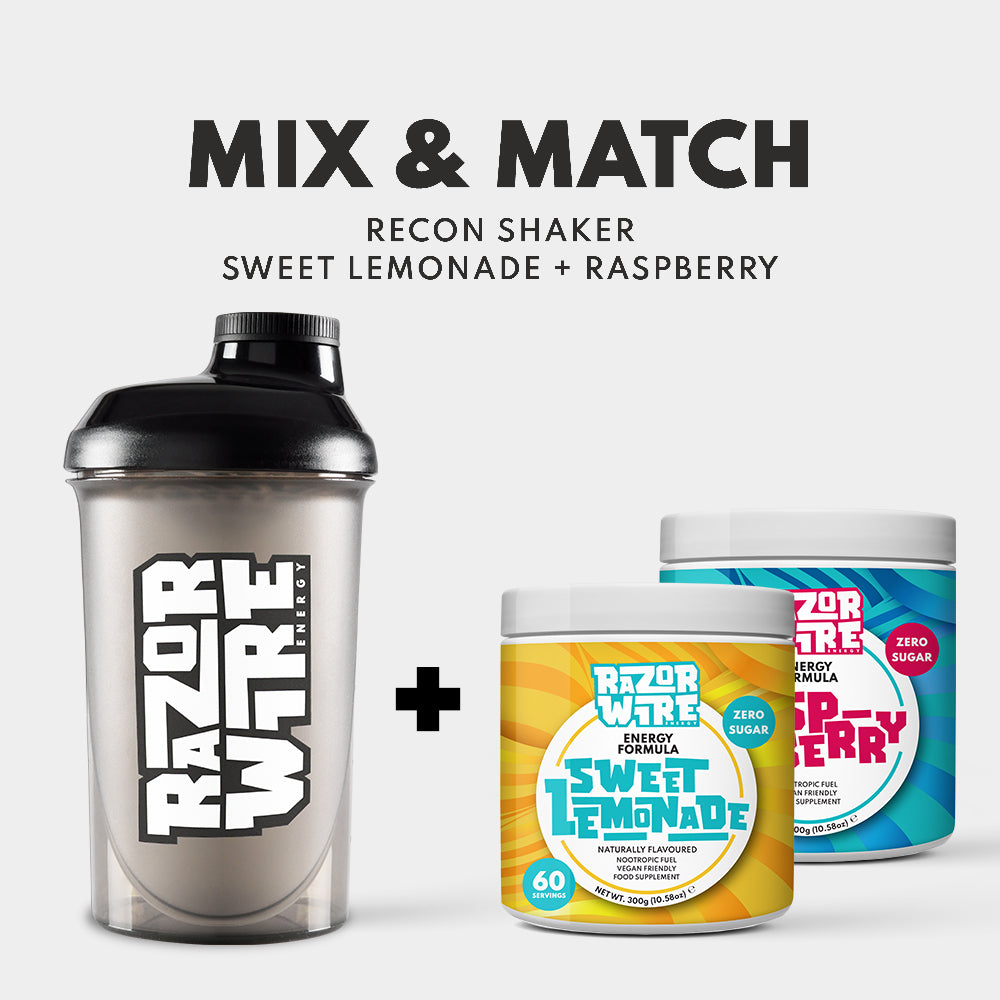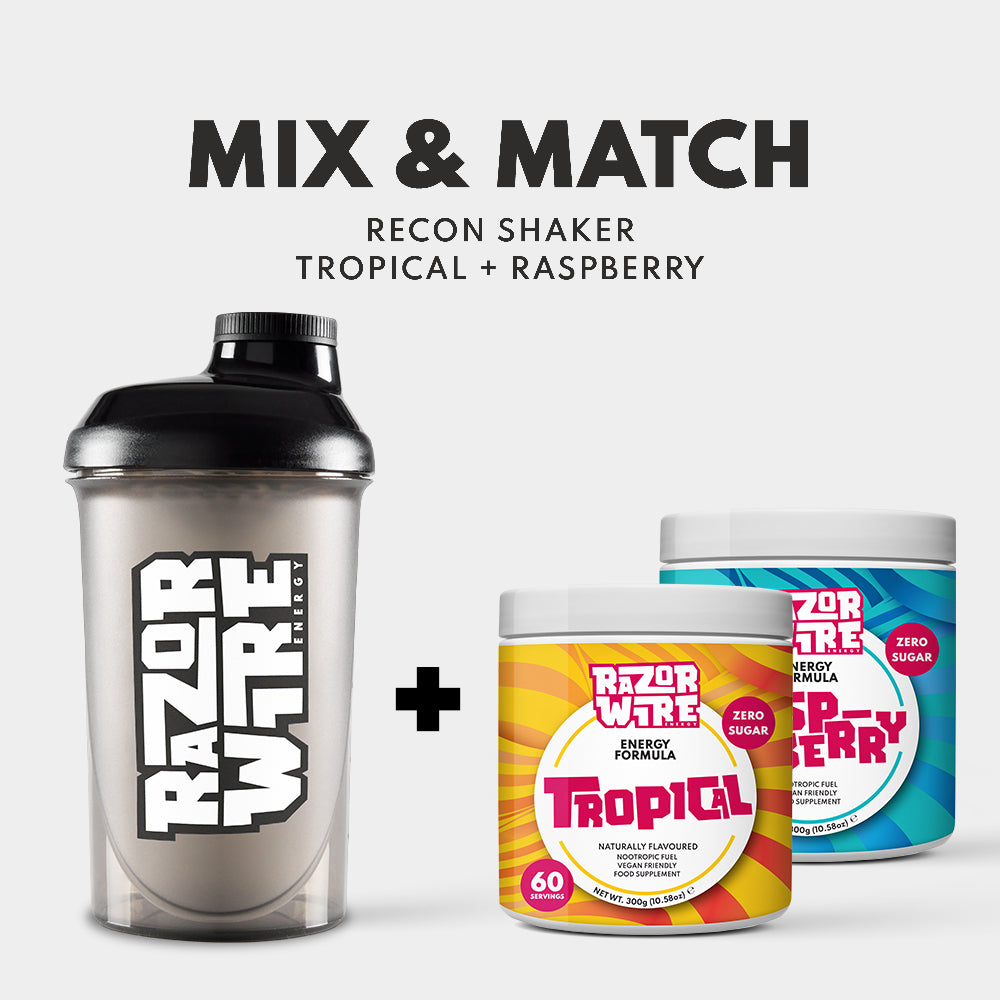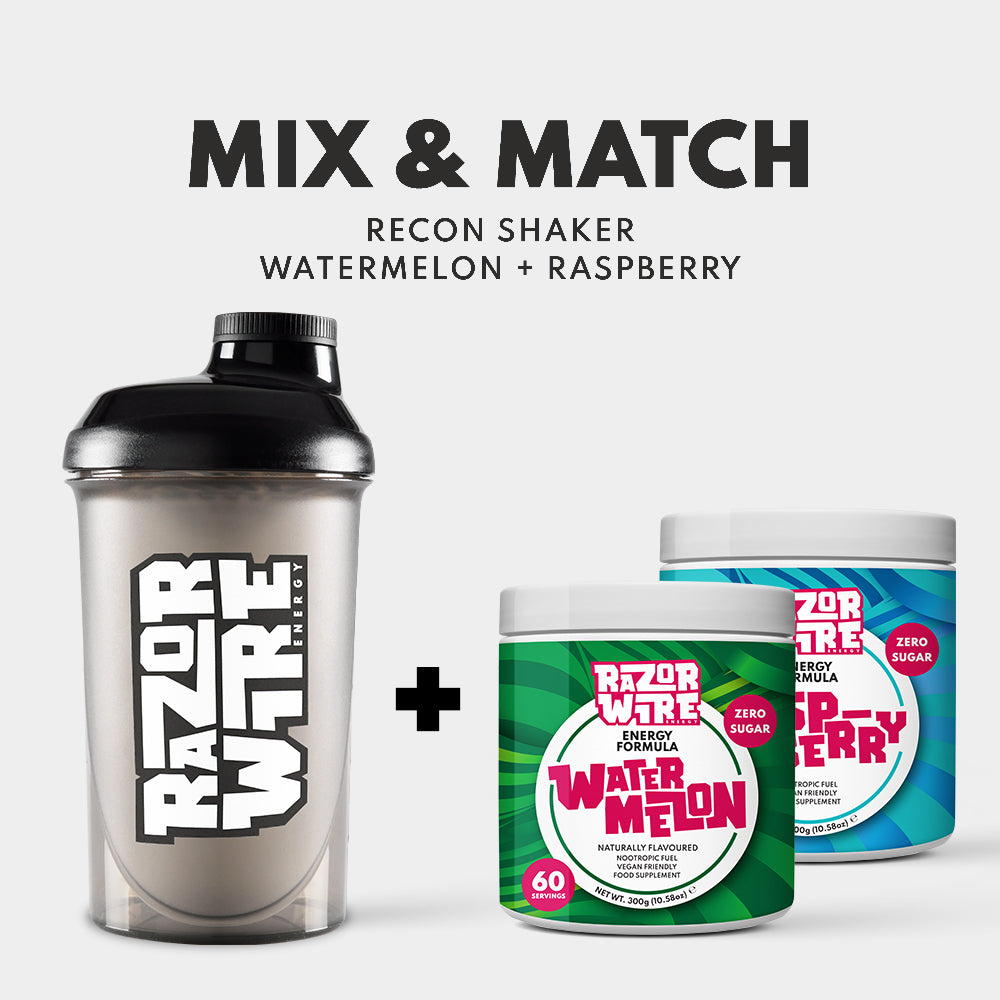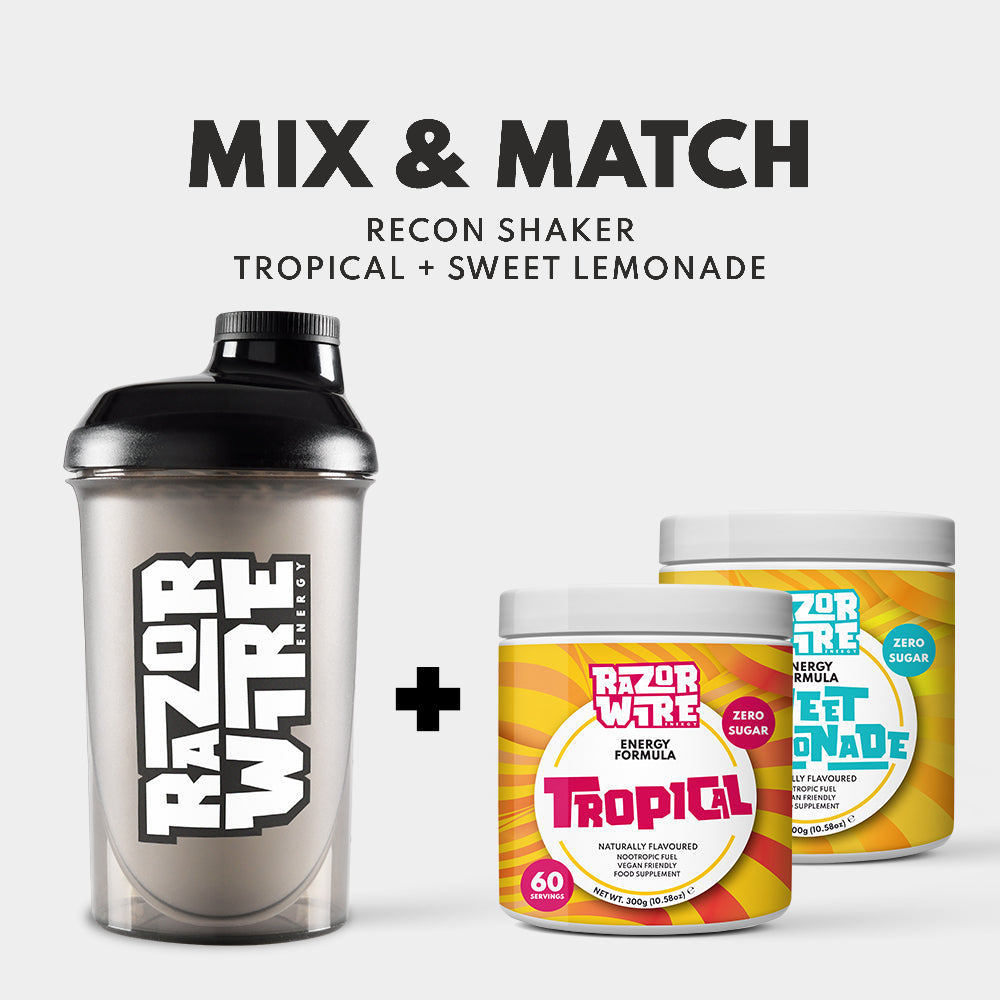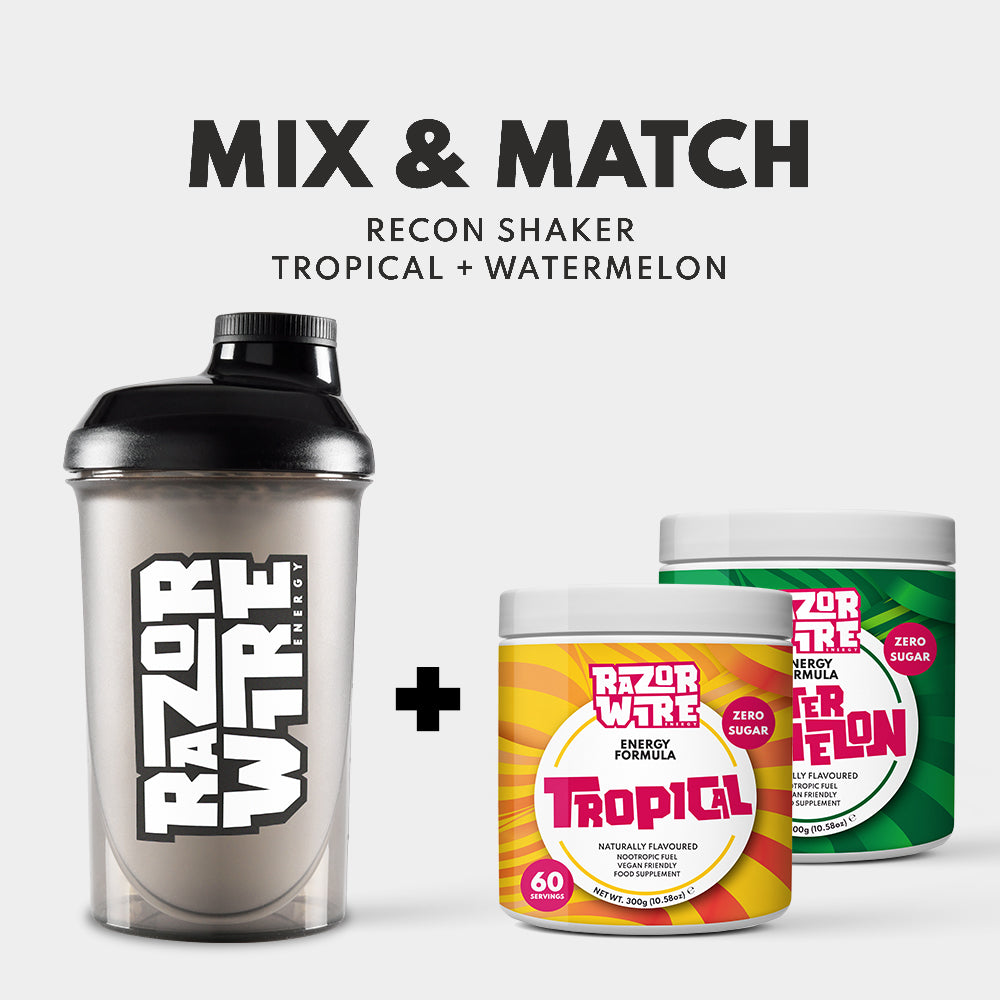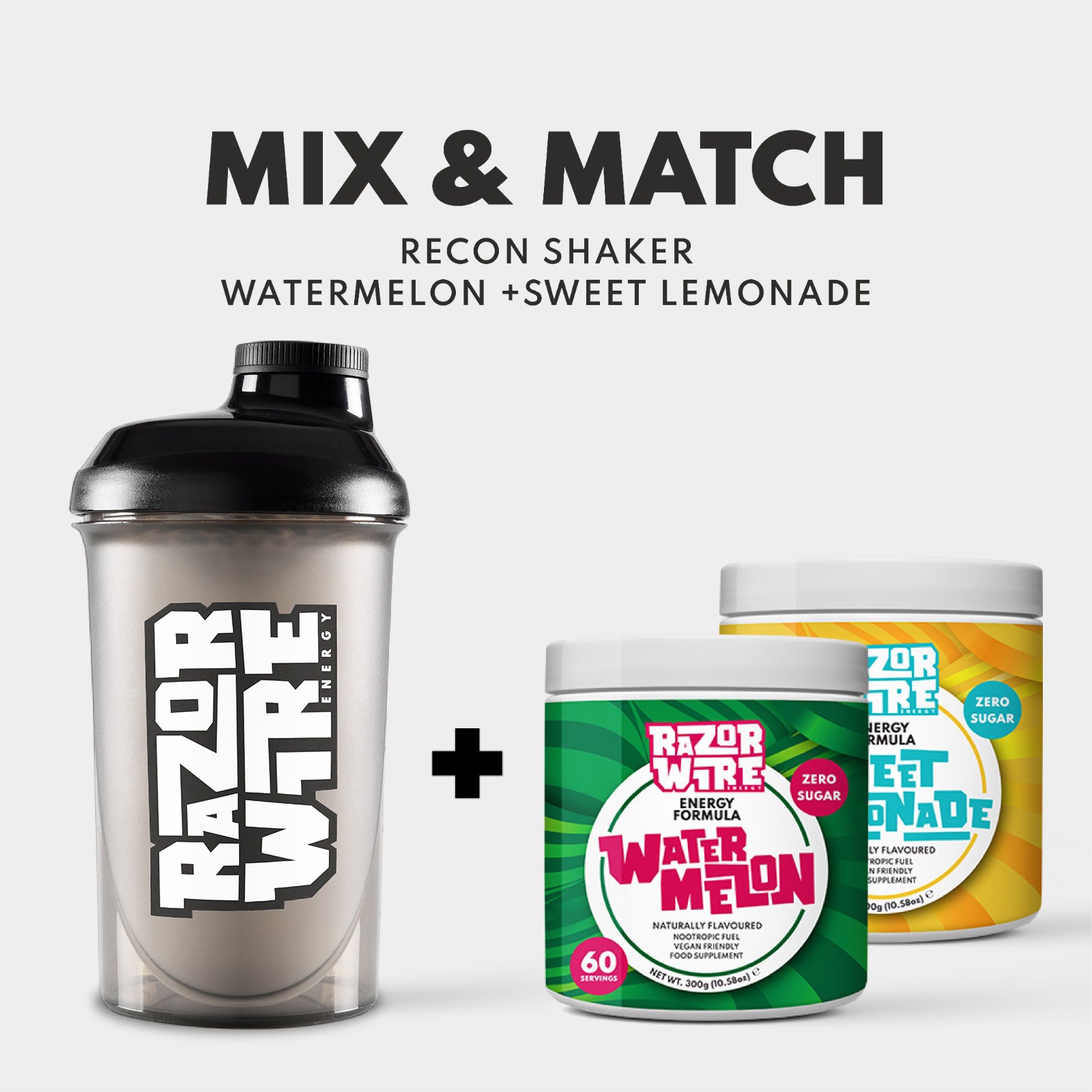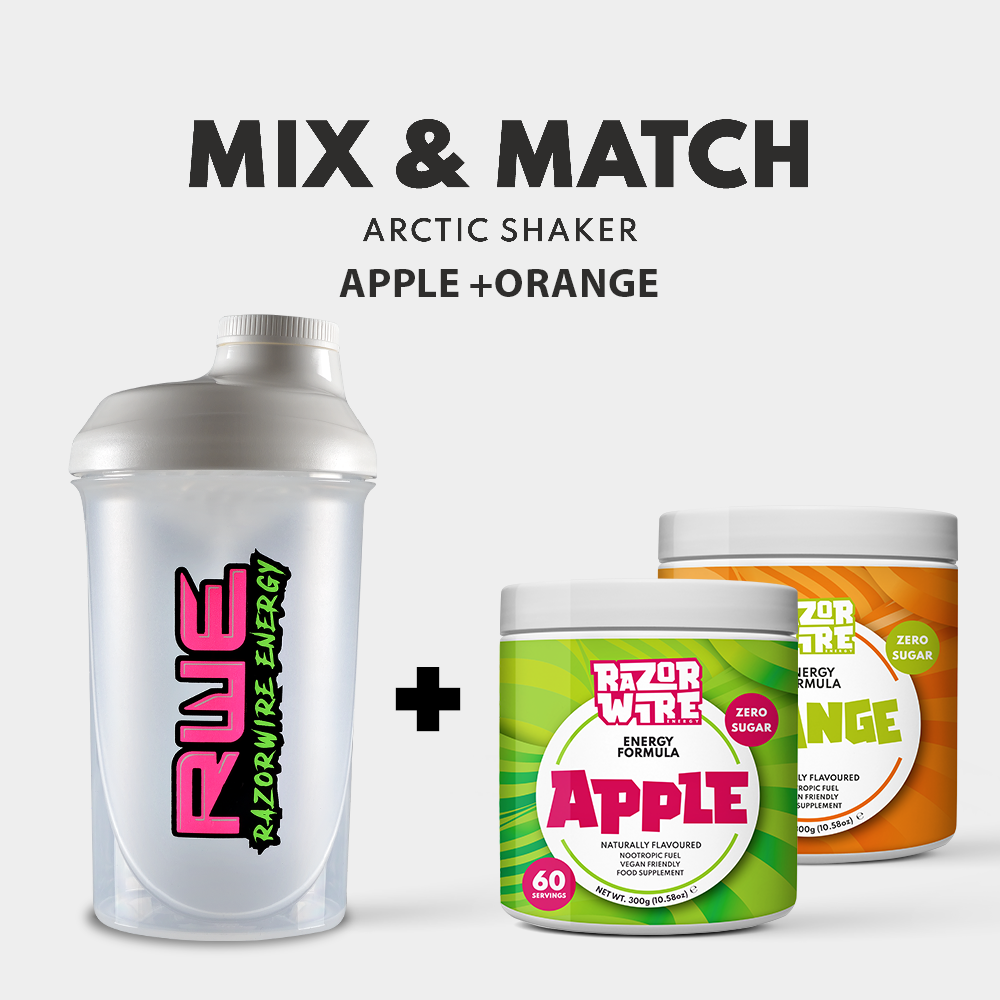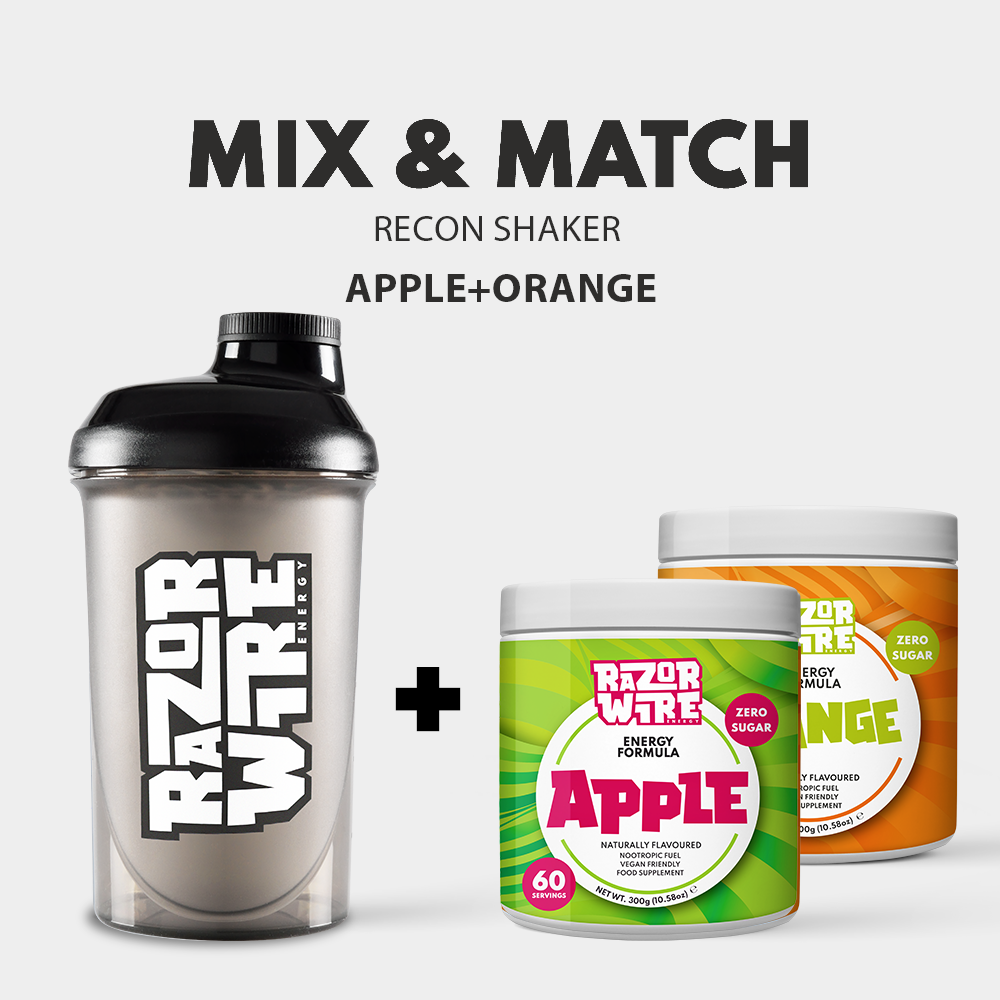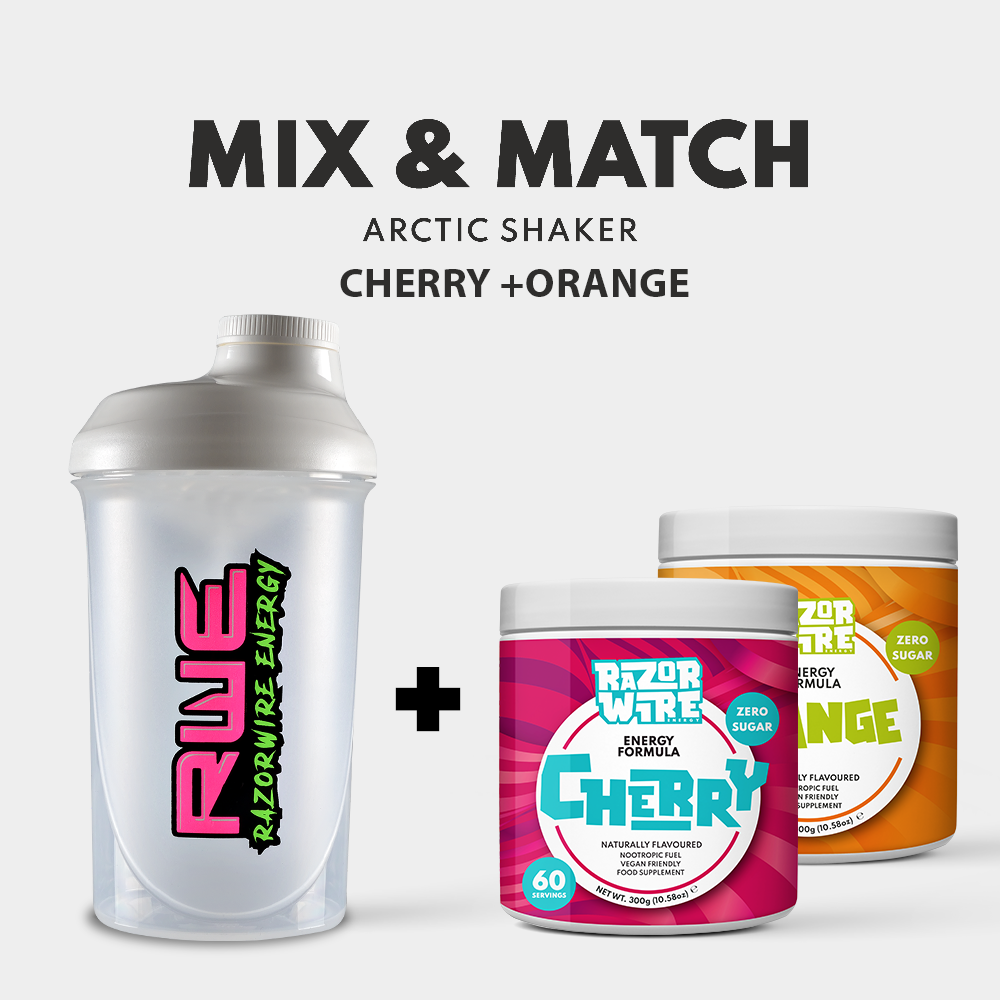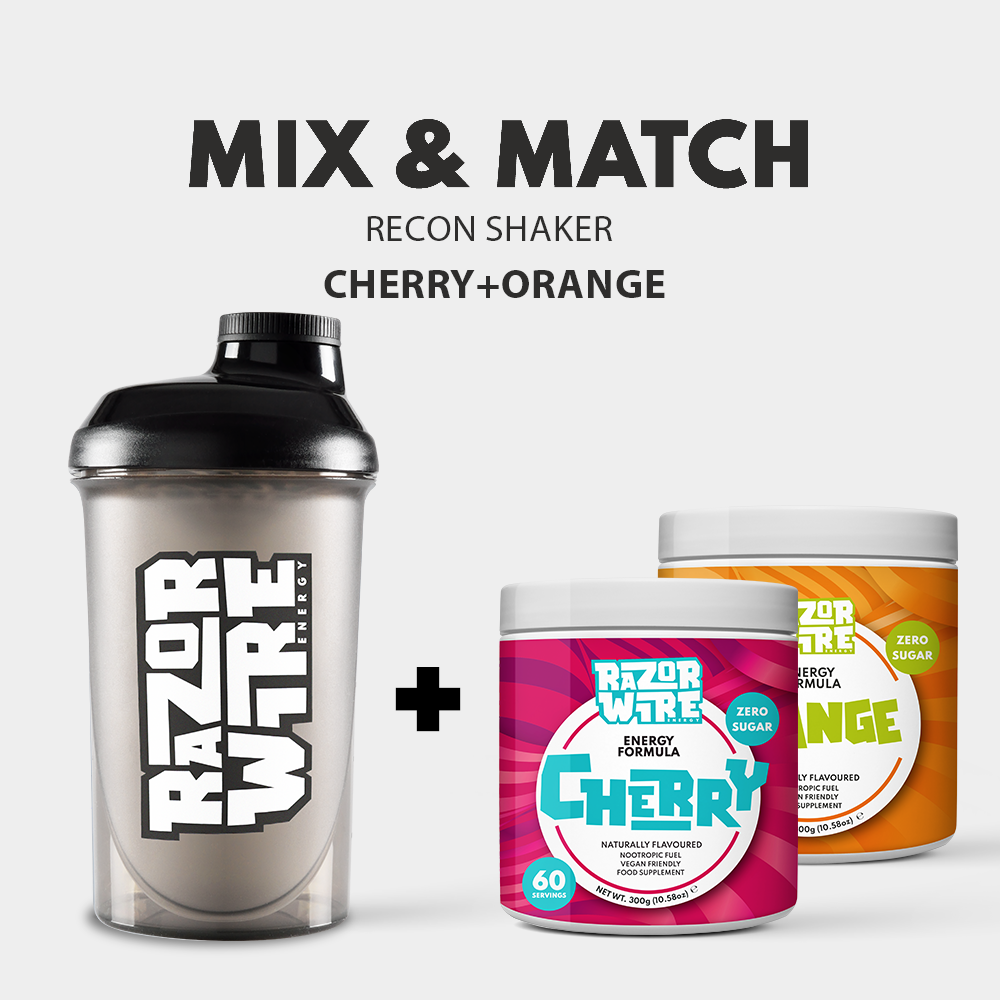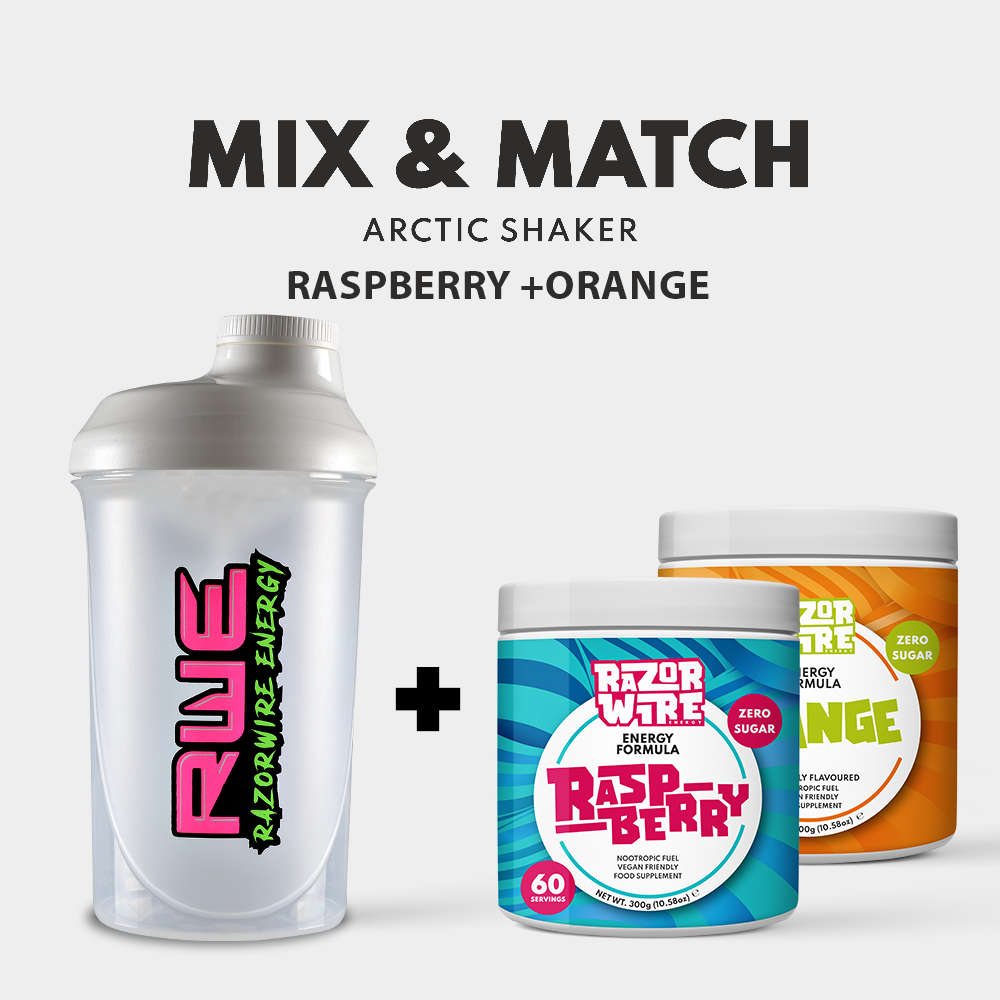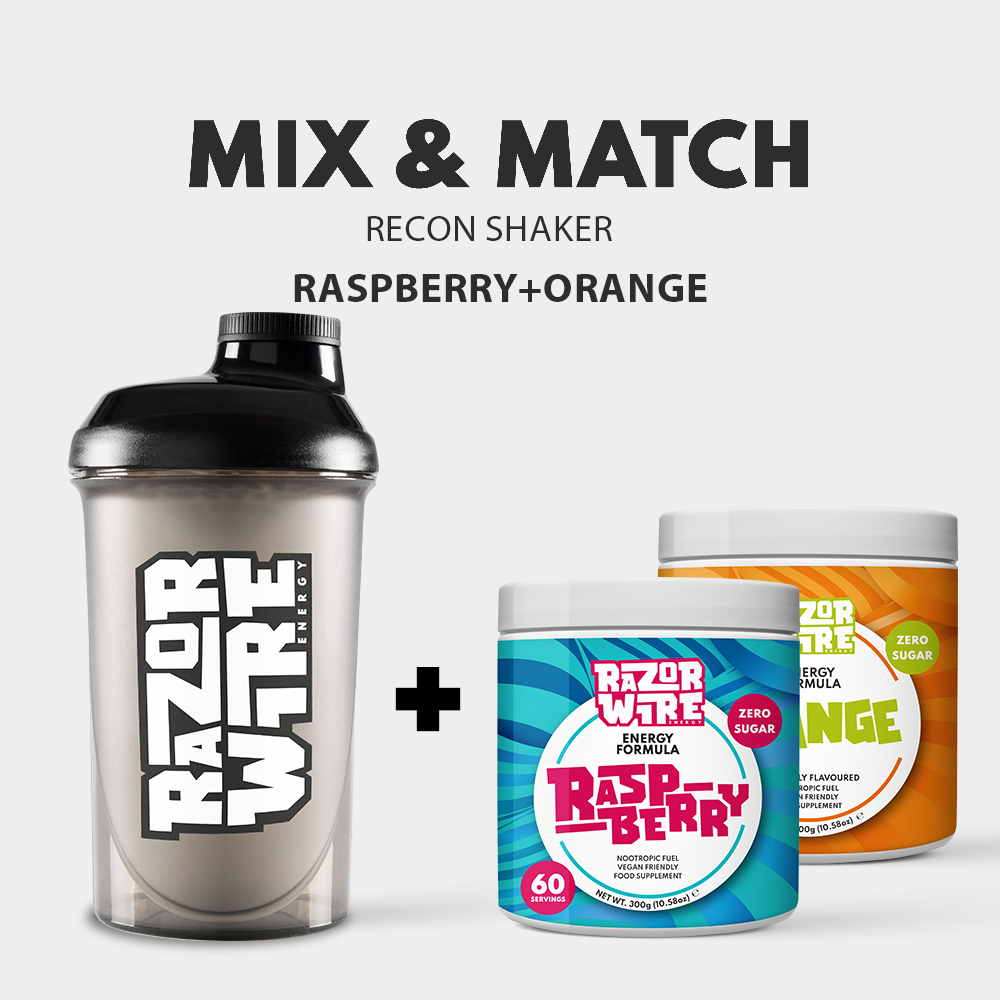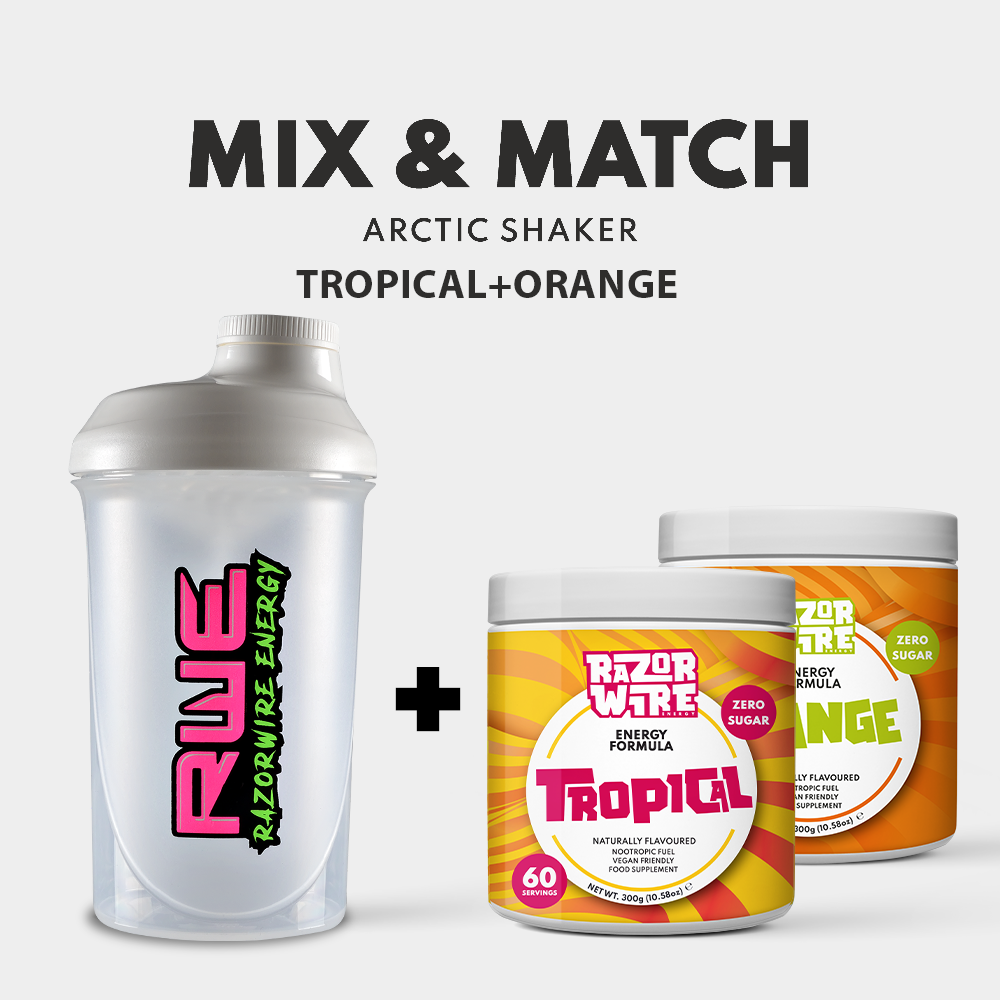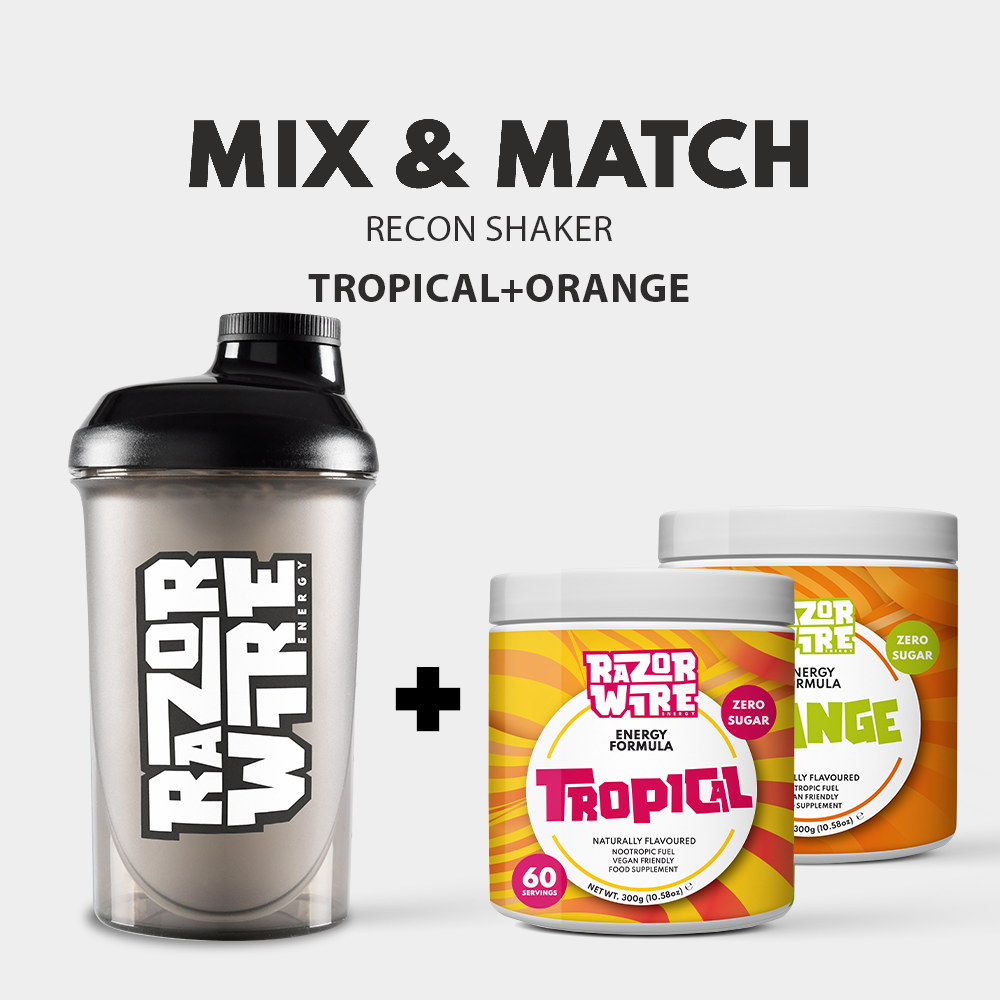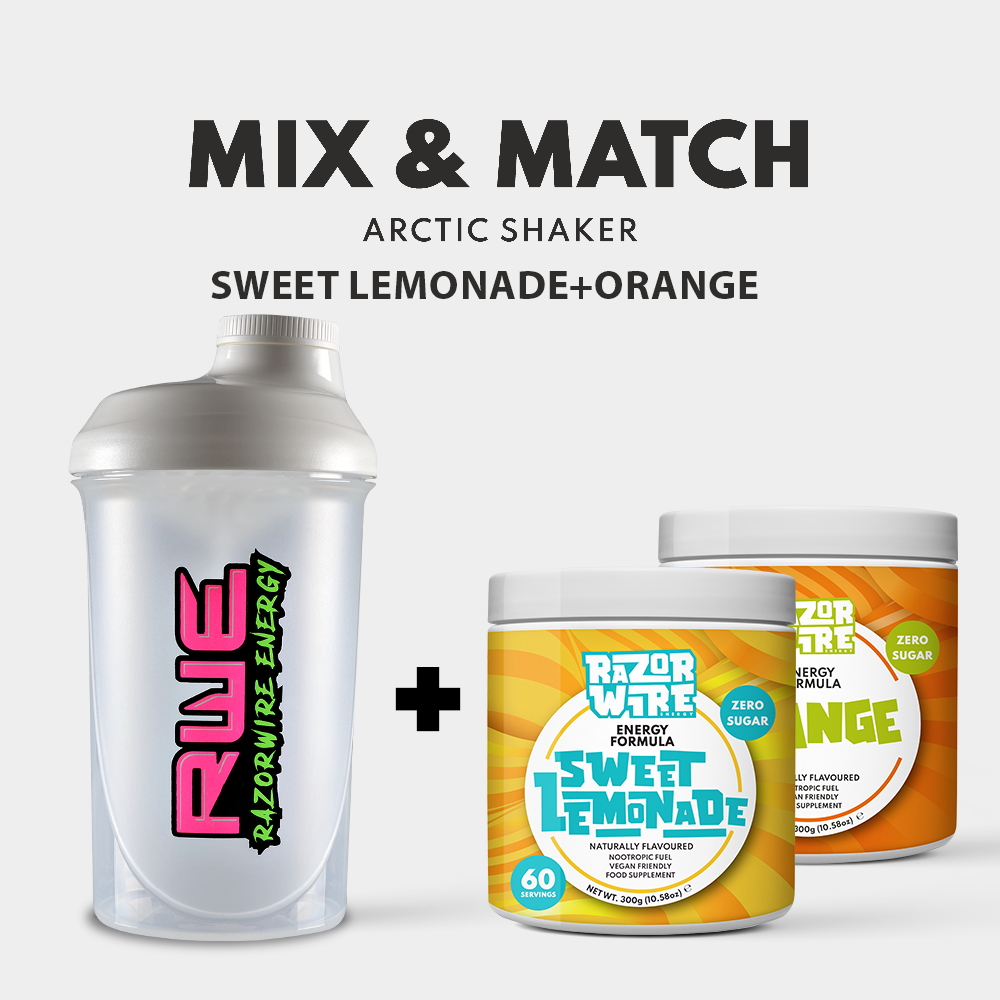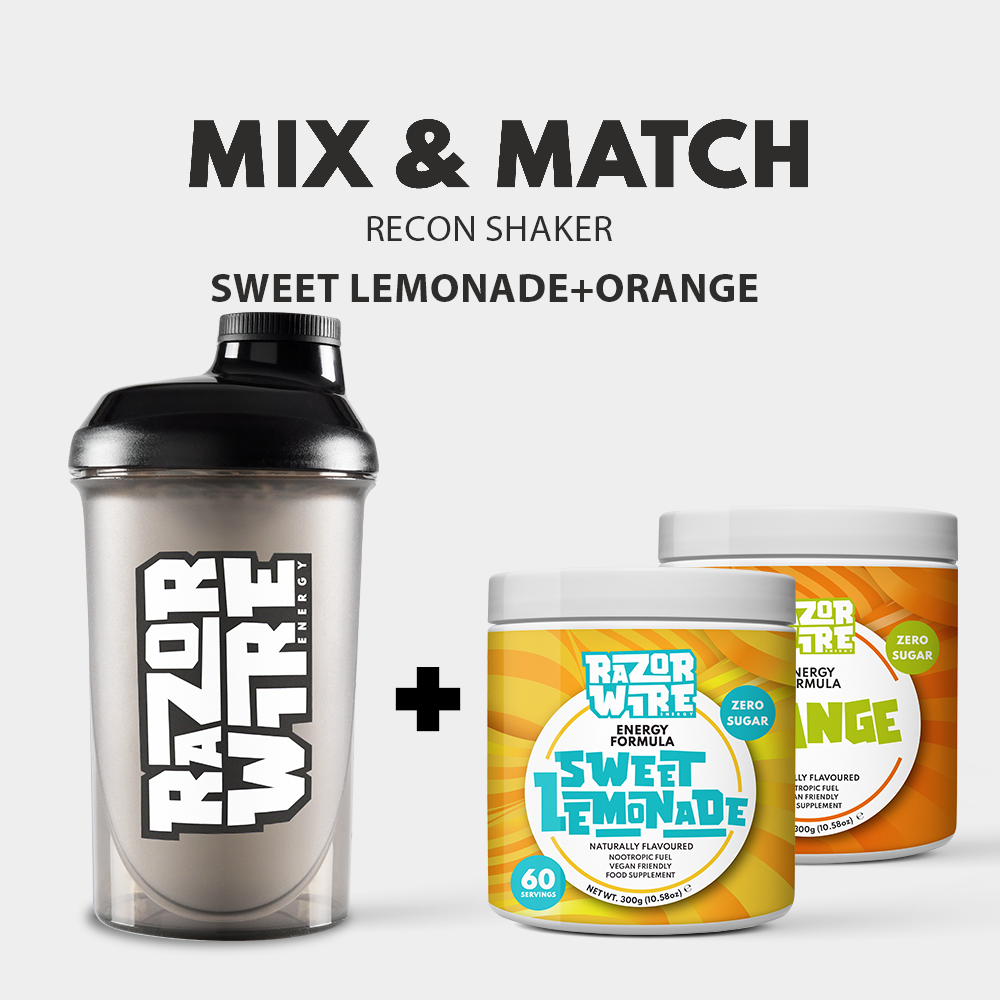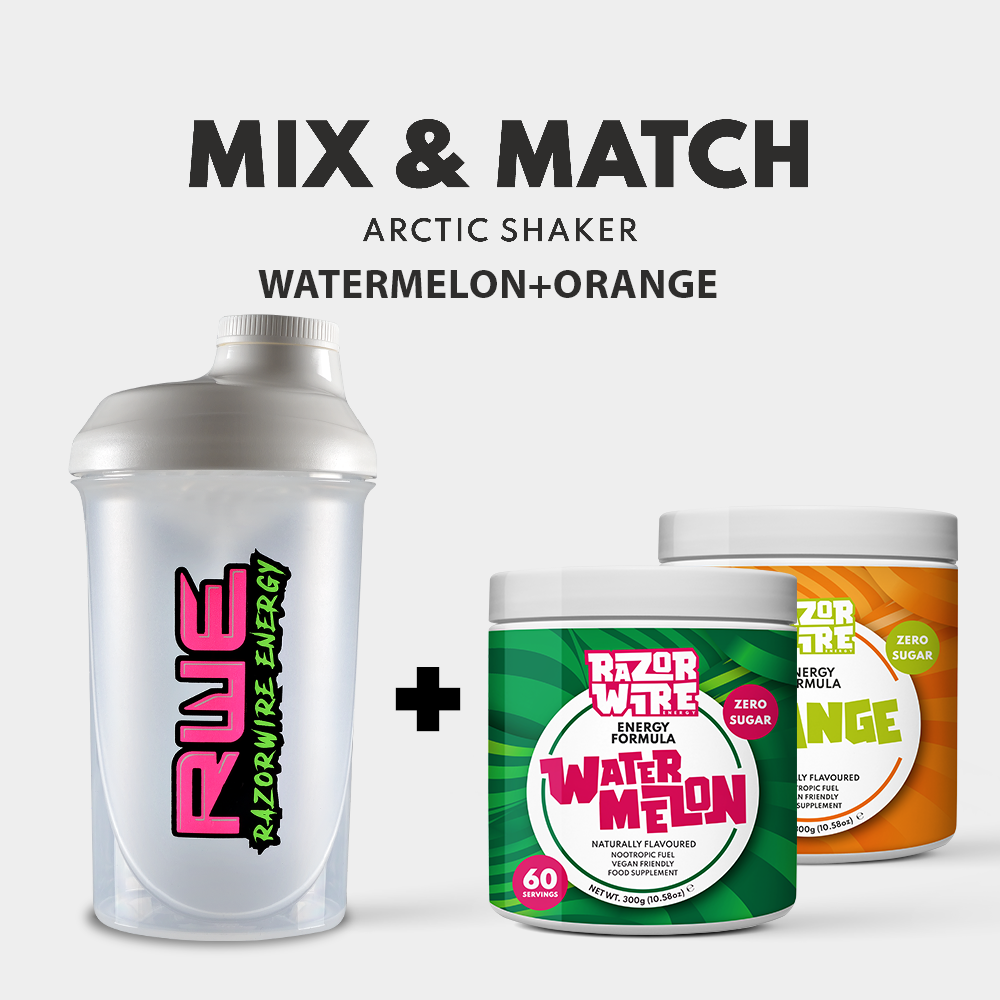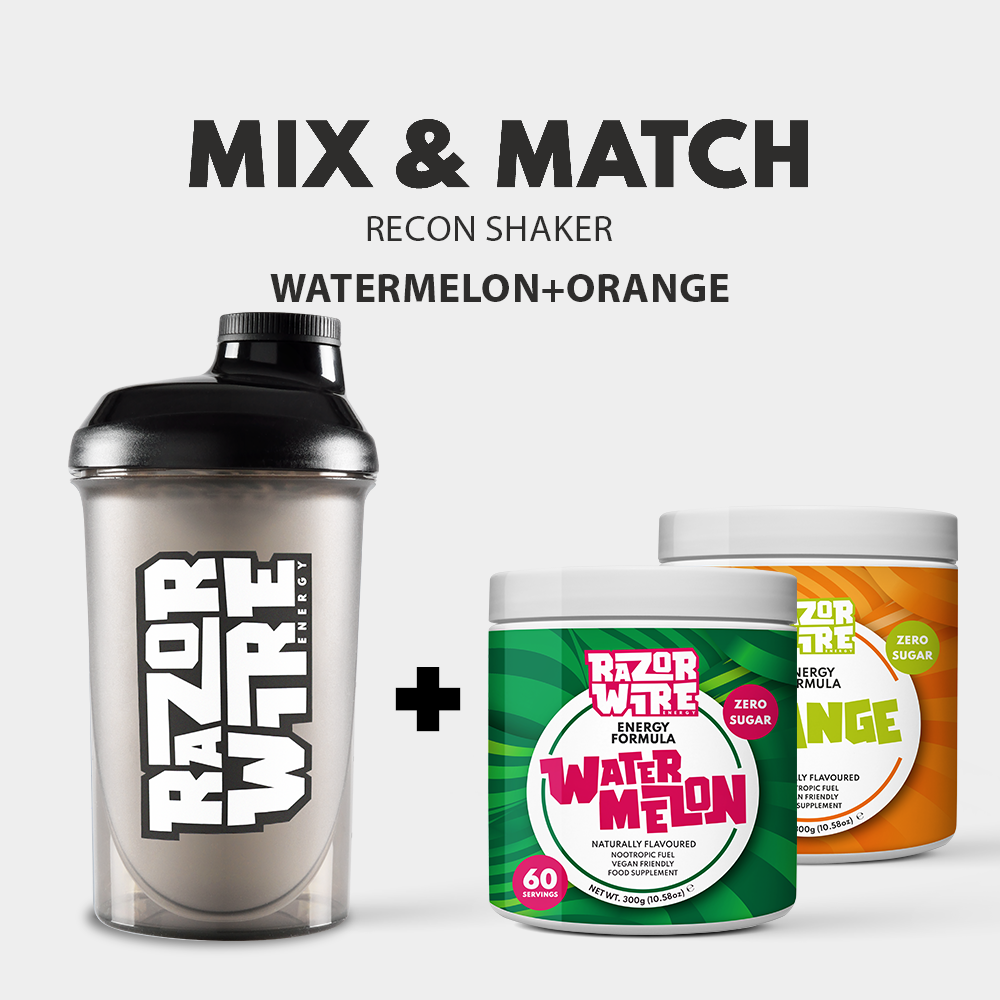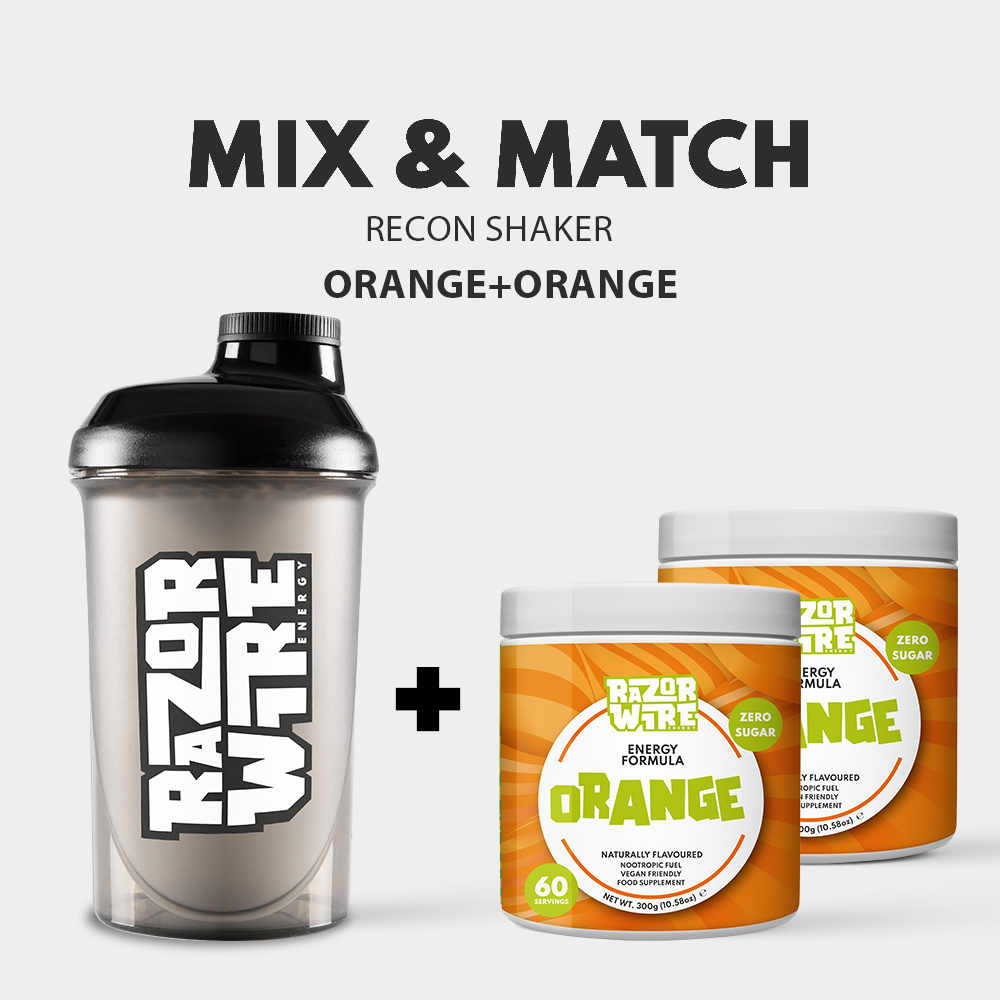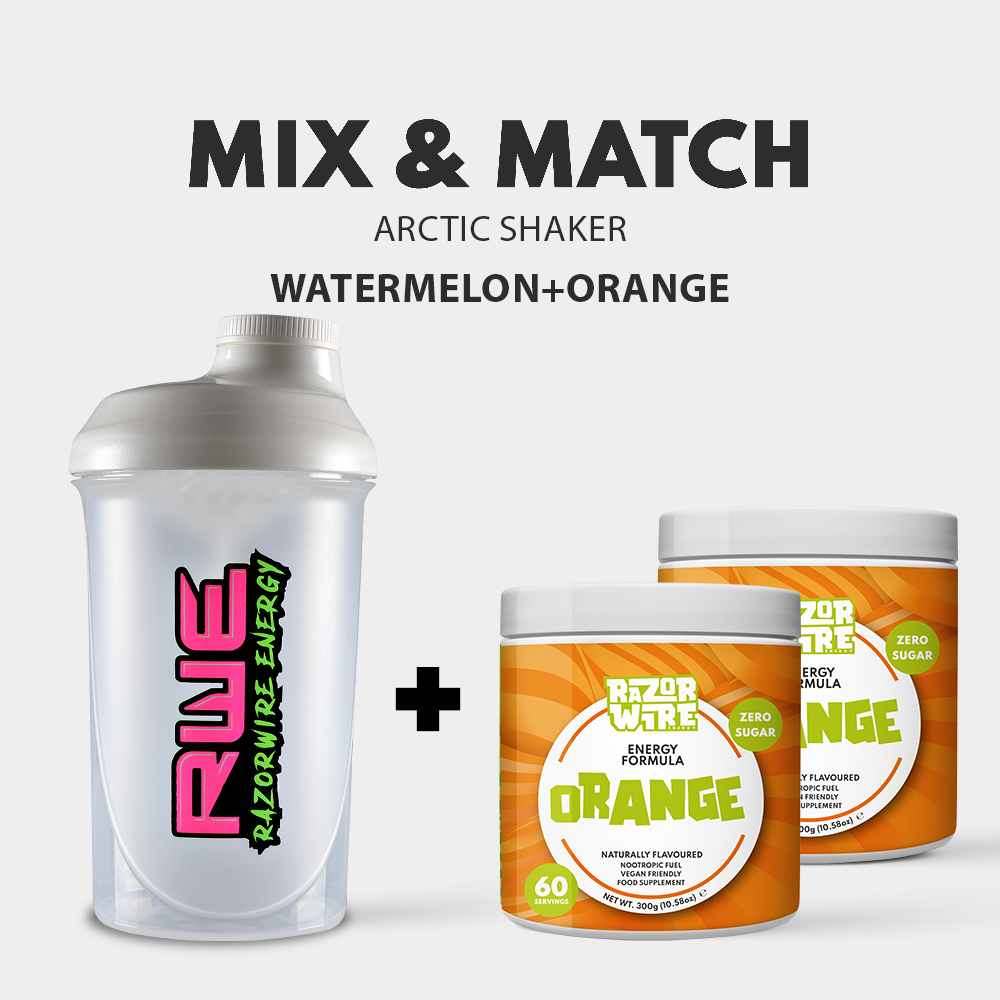 BLACK/WHITE SHAKER + MIX & MATCH TUBS BUNDLE
60 Servings per Tub (120 Servings in Total)

Nootropic Benefits (Brain Memory)

From Only 50p per Serving

From 5-16 Calories per Serving

ZERO Sugar

ZERO Fat

Added Vitamin C to Aid Immune Support

ZERO Fat

No Crash, No Slam, No Lagging 

Added Electrolytes to aid Hydration

Packed with Antioxidants 

Vegan Friendly 

Non GMO

Worldwide Shipping

Drug Free for eSports

Not Recommended for under 16s
What's Razorwire Energy?
It's a powdered energy drink for gamers, streamers and content creators designed to increase energy, enhance reaction times and boost focus. With our energy drink you will benefit from 0 sugar, 0 fat and plenty of antioxidants to keep things healthy.
Our GAMING FUEL does pack a serious punch and that comes in the form of three sources of timed release caffeine that will sustain your energy for longer avoiding the caffeine slam.
Our gaming drinks are reinventing the way you game, so if you're looking to up your game and take things to the next level then this is the energy drink for you.
Recommended use: Add 5g (one heaped scoop) in 250-400ml of water, depending taste. We recommend one serving of Player 1 before or during gaming. Do NOT exceed two servings daily.
BASED ON CHERRY:

INGREDIENTS
L-Taurine, Maltodextrin, Natural Flavouring, Citric Acid, Malic Acid,
Green Tea Extract, L-Theanine, Tri-sodium Citrate, Caffeine Anhydrous, N-Acetyl-L-Tyrosine, Sodium Chloride, Vitamin C (Ascorbic Acid), Sucralose, Potassium Chloride, Pine Bark Extract, Guarana Extract, Vitamin E (DL-Alpha-Tocopheryl Acetate), Vitamin B3 (Niacin),
Vitamin B5 (Calcium D-Pantothenic Acid), Vitamin B12 (Cyanocobalamin), Vitamin B6 (Pyridoxine HCL).
WARNING: HIGH CAFFEINE CONTENT 150mg/300ml SERVING. NOT SUITABLE FOR CHILDREN, PREGNANT WOMEN AND PEOPLE SENSITIVE TO CAFFEINE.
Citations:
1: L-Theanine and Caffeine. Biol Psychol
. 2008 Feb;77(2):113-22. doi: 10.1016/j.biopsycho.2007.09.008. Epub 2007 Sep 26.

2: L-Theanine Phytomedicine. 2017 Oct 15;34:26-37. doi: 10.1016/j.phymed.2017.07.008. Epub 2017 Jul 27.

3: Taurine. Mol Nutr Food Res
. 2019 Jan;63(2):e1800536. doi: 10.1002/mnfr.201800536. Epub 2018 Oct 17.

4: Green Tea. Phytomedicine
. 2017 Oct 15;34:26-37. doi: 10.1016/j.phymed.2017.07.008. Epub 2017 Jul 27

5: Vitamine C. Biochem Soc Trans
. 2018 Oct 19;46(5):1147-1159. doi: 10.1042/BST20180169. Epub 2018 Oct 8.

6: B Vitamin. Nutrients
. 2020 Jan 16;12(1):228. doi: 10.3390/nu12010228.

7: Vitamin E. Vitamin E helps maintain healthy skin and eyes, and strengthen the body's natural defence against illness and infection (the immune system). (NHS)